November 2020
Living in a multiracial democracy means holding the tender possibilities of our shared dreams alongside the complicated truths of our different histories and experiences. I hope that the past couple of weeks have brought you rest and that you found moments to taste the sweetness and joy of looking towards a new horizon.
Since Election Day, we have watched together as our democratic institutions held strong in the face of baseless threats and despicable attacks. Democracy won in a landslide. People voted in unprecedented numbers, and their will prevailed. Now, we must use the power we hold as people of faith, conscience, and spiritual practice to move a robust climate justice and environmental racial justice agenda forward in the months to come.
We are in a moment that requires our collective fortitude. This past Friday, 11/13, the Minnesota Pollution Control Agency (MPCA) approved permits for Enbridge, which will allow them to start construction of the Line 3 tar sands oil pipeline. Line 3 hurts our environment, undermines our shared prosperity, and violates the sovereign rights that Native people hold over their land. Both science and law support overruling the MPCA's decision. And we know that a renewable economy, and not pipelines, keeps wealth in communities and in working class jobs.
That's why we're not giving up. MNIPL and our partners are planning next steps in solidarity with Indigenous leadership. We will continue to use our moral leadership in the public sphere, explore all legal options, and rely on our fierce belief in justice to guide us through. We will keep you updated about what's happening and what you can do on our website's pipelines page and on Facebook.
In the meantime, we need your help. MNIPL is able to act boldly in the world because we are supported by a vibrant community of grassroots donors who make our work possible. We have done amazing work together in the past months, including #RelayforOurWater, the Just Solar Coalition, our Climate Justice Voter Campaign, and so much more.
We have the chance to rise together. MNIPL needs to raise $5,000 this month to resource the next phase of our organizing to #StopLine3. This week is Minnesota's annual giving holiday, Give to the Max. The outpouring of generosity associated with this event is amazing as people show their commitment to helping make our state a better place. Please donate to MNIPL's Give to The Max campaign to raise the funds we need to stay in this pipeline fight.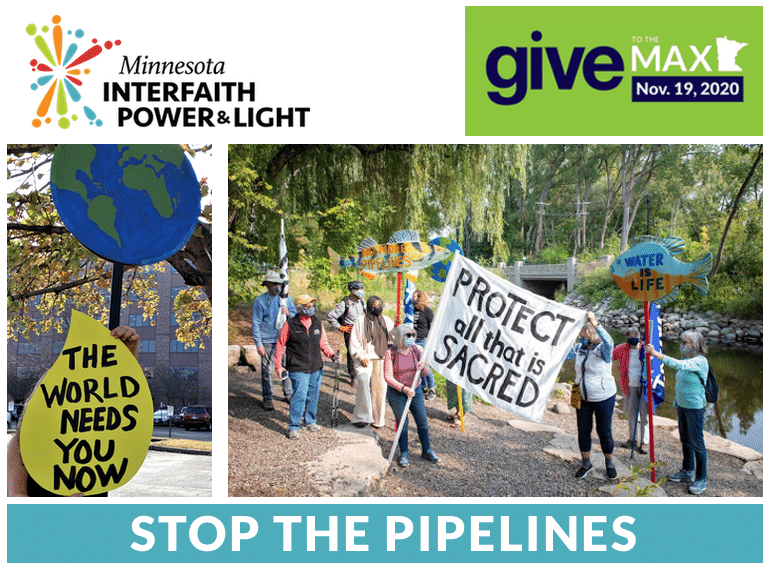 Thank you for all of the heart and spirit that you bring towards building a more just, peaceful, and sustainable world.
With gratitude and solidarity,
Liz Loeb
Associate Director, Minnesota Interfaith Power & Light
P.S. Thanks to the gift of a generous donor, every person who gives $100 or more through MNIPL's Give to the Max campaign will receive a copy of Secrets of the Loon, a gorgeously illustrated hard cover book for families, young people, and loon lovers of all ages to cherish and enjoy.

Love & Courage: Moving Forward for Climate and Democracy
Tuesday, Nov. 17 from 6:30-8:30 pm
Our power is a collective power that is sustained by love and courage.
We are a people united across different races, identities, faiths, traditions, experiences, and geographies. Together, we can bend the arc of history towards justice — for the planet and for one another.
Join us on Tuesday, Nov. 17, from 6:30-8:00 pm for an MNIPL convening where we will outline concrete next steps we can all take towards shared action in the weeks and months to come.
We will support one another in connection, grounding, and interdependence. And we will make space for the wide range of reactions and emotions we might be holding during this time.
Please RSVP today and share this event with others who want to co-create a just and sustainable world.
See more upcoming events below.

Highlights from our Climate Justice Voter Campaign

We are incredibly proud of the impact Minnesotans of faith played in this election, making sure that climate change was a priority for voters and candidates alike. Some highlights of the campaign are below or read the full blog post for more details and photos. And please fill out this short survey so we can know how you and/or your community helped engage in voting efforts. Let's celebrate together and learn from each other!
Highlights by the numbers:
100+ relational organizing volunteers attended trainings to learn how to motivate their personal contacts to vote and use the Empower app to track progress. Thanks to their hard work and dedication, we finished our campaign with 3,181 conversations!
70+ people participated in non-partisan Vote Your Values virtual gatherings in their faith communities to talk about how their shared faith, teachings, and values inform the way they vote. One conversation at Chatfield UMC was featured in their local news!
10+ communities held Chalk the Vote parties to publicly amplify messages about voting and democracy. They were a fun way to gather outside and use colorful words and drawings to make positive and encouraging voting statements.
Through text and phone banks organized by national and local partners, we reached thousands of potential voters, including texting 36,388 infrequent voters in Minnesota and 8,511 voters in Arizona and North Carolina.
Dozens of volunteers across the state gave free, Covid-19-safe rides to the polls before and on Election Day. Over 30 people were able to vote who otherwise wouldn't have voted, including three first-time voters!
---
Call Attorney General Ellison to #StopLine3
Take action today by calling AG Keith Ellison at 651-296-3353 and urge him to take legal action against pipeline construction. Use the following script to guide your message.
"Hi, I'm [NAME] from [PLACE]. I'm calling because I am extremely concerned about the possibility of construction on the Line 3 pipeline. The pipeline is still facing enormous legal challenges, including the one in which your office represents the Minnesota Department of Commerce. I'm calling to urge you to work with the DOC to advocate for a stay against construction. Your environmental justice track record is strong, and I'm counting on you to stand with the people and stand up to Enbridge. Please do everything you can to stop construction on Line 3. Thank you."
---
Support Drive for Frontline Water Protectors
We continue to support water protectors and their communities in the Fond du Lac area and are working to expand our ability to respond to growing requests from other communities. Click here to access a regularly updated Frontline Supply Drive Requests document for November.
To make an electronic donation for purchase of perishable food and special requests, go to https://venmo.com/Catherine-Knaeble or mail a check to Catherine Knaeble, 1912 2nd Ave N, Minneapolis, MN 55405.
Food and fear can be dropped off in Minneapolis at MN350's office (4407 E. Lake St.) through November 27. The hours are Tuesdays and Fridays from 9:00–noon and Thursdays from 5:30–8:30 pm. Frozen items are accepted.
For drop-off options at other times, email [email protected]. For drop-offs in the southwest suburbs, email [email protected].
---
Low Income Solar Program Expanded
On November 5, MNIPL testified directly in front of the Public Utilities Commission (PUC) advocating for changes to two related solar programs from Minnesota Power. The PUC took our requests a step further. The Low Income Solar program will now distribute $120,000 annually in northeast Minnesota for four years—a 100% increase in the original proposed budget. A minimum of 4 projects will be funded per year. The program will also continue to be advised by a committee partially composed of community members who work with or come from low income populations. This will ensure that grants actually assist low income populations they are supposed to assist. Read the full story here.
---
Meet a Movement Builder: Rev. Lee Schaefer
Among the good reasons to work in the climate justice movement are the interesting and good-hearted people you meet on the way. People like the Rev. Lee Schaefer.  Lee began volunteering as a Movement Builder with MNIPL about a year ago and has already organized fellow members at his church, worked to get out the vote for this fall, and installed a solar array on his home. Read the full profile here.

View all upcoming events on MNIPL's online calendar. 
Be the Spark Training
In this foundational training, learn premier organizing tools and strategies for engaging your community of faith in climate change solutions. You will learn how to inspire others to use their gifts and skills to take creative and sustained action in building a more just and sustainable world.
Join us for this dynamic and experiential leadership development workshop from the comfort of your home. We will meet from 6:30-8:30 pm on the following four Thursdays in 2021: February 4, 11, and 25; and March 4.
---
Film Watch/Discussion: My Octopus Teacher
In My Octopus Teacher, a filmmaker forges an unusual friendship with an octopus living in a South African kelp forest, learning as the animal shares the mysteries of her world. This beautiful film will make us all reflect on our relationship with the natural world.
The Sustainable Living Team at Unity Church-Unitarian is inviting people to watch the film from home on Netflix and then join a virtual discussion on Friday, Dec. 4 at 8:00 pm. All are welcome. Please register in advance.

Movement Builders
MNIPL's core group of volunteers dedicated to building the interfaith climate movement. Members of this team receive ongoing training and support to lead, recruit, and mentor volunteers and congregational teams as we take action on climate. Contact: Charissa Verdoorn, [email protected]
Policy Team
Work to bring a moral voice to the public debate about climate change-related policy at the federal, state, and local levels. Meetings held online every other Monday evening. Contact: Sam Benson, [email protected]
Line 3 Interfaith Response Team
Join to shape a spiritual and moral response to the Line 3 pipeline—a massive tar sands pipeline proposed in Northern Minnesota. Contact: Joe Meinholz, [email protected]
Storytelling Team
Do you love writing, design, creative arts, or social media? Help us amplify inspiring and personal narratives and grow our impact. Contact: Liz Loeb, [email protected]