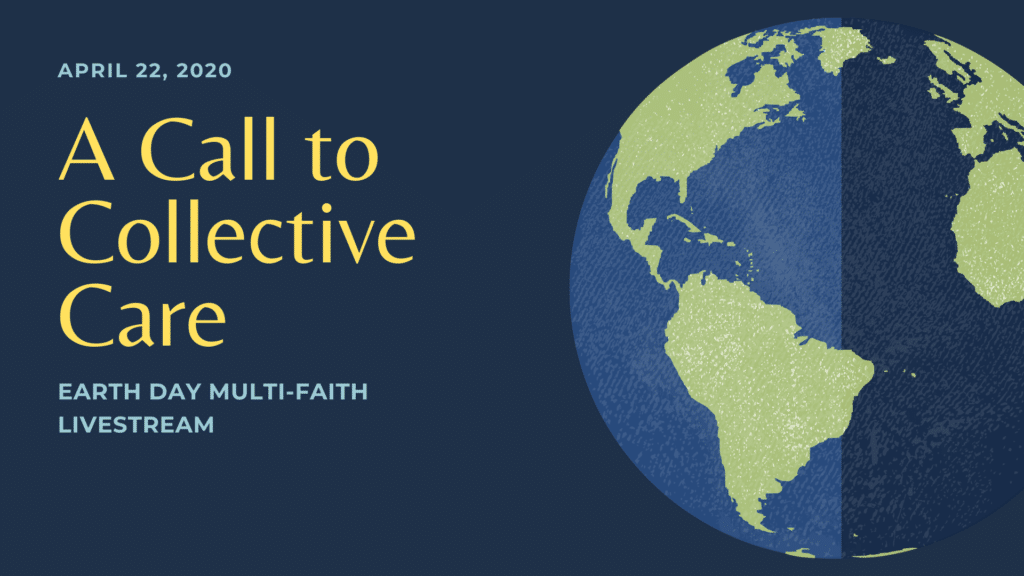 Earth Day Multi-Faith Livestream: A Call to Collective Care
Wednesday, April 22nd @ 1-3 pm
Participate online or by phone via Zoom
Register here
This moment of pandemic reminds us how deeply connected we are to each other and to the earth. We know that many of us are suffering, and we are finding new ways to care for one another and for our planet. 
On the 50th anniversary of Earth Day, join us for a virtual gathering of prayer, storytelling, art, and wisdom from our diverse spiritual teachings that speak to this current moment of crisis. We invite you to connect and support one other as we navigate this difficult time, and to send a powerful message to decision-makers that climate justice is a top priority. Sign up here.
In addition, visit our Earth Day toolkit, with resources for Earth Day prayers, practices, and liturgy to use in your faith community in the coming weeks. If you plan to share an Earth Day-related sermon or talk, please email [email protected] so we can honor your work!
_______________________________________________________________
Earth Day Action Opportunity #1: Share your photo!
One way you can help make this Earth Day livestream powerful is to take a photo of yourself answering this question: Why do you stand for climate justice? You can answer: "For love of ____, I stand for climate justice." Then, email your photo to [email protected]. If you're on social media we encourage you to share on Facebook, Instagram, and Twitter with the hashtag #MNEarthDay the week of April 20. We'll be sharing this visual mosaic on the Earth Day livestream and with candidates and decision-makers throughout the year! Learn more in the toolkit.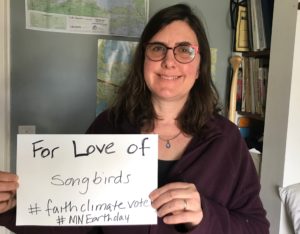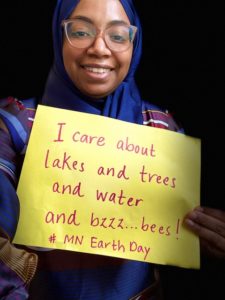 _______________________________________________________________
Earth Day Action Opportunity #2: Share Your Story!
We know that we need millions of people around the world to come together to fight for a just, healthy world. We at MNIPL want to collect your stories about why you, as a person of faith and conscience, care about climate justice.
Please record a short 2-4 minute video sharing a specific story from your life that moved you to act for climate justice. Then, send your story to [email protected]. We hope to share some of these stories during our Earth Day livestream, and will be sharing them in the coming weeks and months ahead. Your story has power!
You can watch this recording of MNIPL's Community Connector Webinar from April 7, 2020. This webinar explores why sharing your personal story — and combining it with a story of "us" and "now" is so critical to bringing people along to fight climate change.