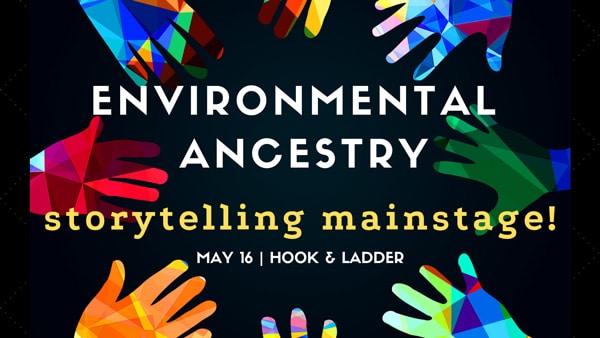 Environmental Ancestry Storytelling Mainstage
We invite you a special evening of storytelling with cultural artists Ifrah Mansour and Louis Alemayehu, together with live music and stories from community members. Together we'll listen to narratives from the heart of our community – stories that may help us learn something more about ourselves as well our neighbors.
RSVP to this is free community event!
All are welcome to this free gathering, modeled after live storytelling events such as The Moth. The event represents the culmination of the Environmental Ancestry Storytelling Project workshop series. Co-hosted by Minnesota Interfaith Power & Light and Hook and Ladder Theater & Lounge.
Ifrah Mansour is a Somali, refugee, muslim, multimedia artist and an educator residing in Minnesota. Her artwork explores trauma through the eyes of children to uncover the resiliencies of blacks, muslims, and refugees. She interweaves poetry, puppetry, films, and installations. Ifrah has been featured in BBC, Vice, Okayafrica, Star Tribune, and City Pages.
Louis Alemayehu is a multicultural elder born in Chicago of African and Native heritage, who developed his poetic skills and musical sensibilities as a part of the Black Arts Movement in the 1970s. He believes that poetry is a tool for healing; his performances are lyrical twinings of jazz, chant, poetry and song with art-as-ritual, often performed ceremonially. He teaches Environmental Sustainability in Minnesota at the Higher Education Consortium for Urban Affairs.
Thanks to the Minnesota State Arts Board and the Bush Foundation for generous grant funding to support the Environmental Ancestry Storytelling Project.