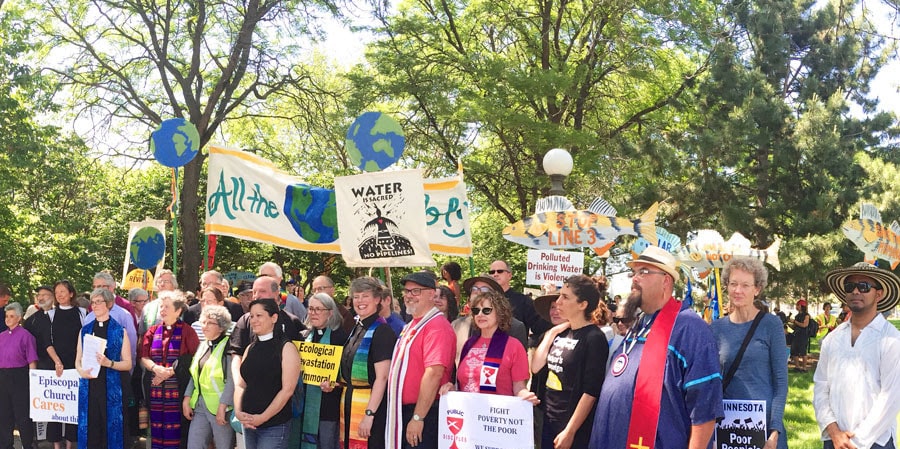 Interfaith Action at the Capitol: Water is Life / Stop Line 3
Date: Friday, February 8th
Time: 11:30 am – 1:30 pm
Location: Governor Walz's Office, State Capitol, St. Paul
Gather in the Rotunda at 11:15 am.
We as people of faith are being called to take a stand against Line 3. We are being called to defend the sacredness of the water, land, and wild rice lakes that the proposed tar sands pipeline would cut through. Governor Walz has the power to protect our sacred water and stop Line 3. Since taking office, Walz's position on the pipeline has wavered, and he needs to hear from us now.
RSVP: https://goo.gl/forms/BSTSkYXzHhtyDbPg1
We are asking Governor Walz to heed to the calls of our youth, who are calling for a Green New Deal, of our communities, demanding that we move away from an extractive economy, and of the tribes, who have given no consent to the pipeline. If he hears us, we have faith that he'll be the climate leader he aspired to be during his election campaign.
We have shown up in the past, from faith leaders convening at Standing Rock to the sacred circle at the Headwaters of the Mississippi River, and beyond. However, government officials continue to take big oil's side instead of the very people they are supposed to represent.
Join us as people of faith in spiritually grounded action in solidarity with Indigenous Water Protectors at Governor Walz's office on Friday, February 8th. We will be holding sacred space and showing our care for our Earth, our water, and our communities. We invite you to come practice your spiritual tradition through prayerful protest, meditation, and sacred rituals at Governor Walz's office to send our moral message: Water is Life / Stop Line 3.  This is a critical time for moral action on the pressing issues of climate change and racial justice.
Interested in joining us for spiritually grounded action on Feb 8th? Sign up today: https://goo.gl/forms/BSTSkYXzHhtyDbPg1
This action is being sponsored by Minnesota Interfaith Power and Light. If you are interested in co-sponsoring the event, collaborating in the planning process, and/or providing any feedback of your own, please email: [email protected]