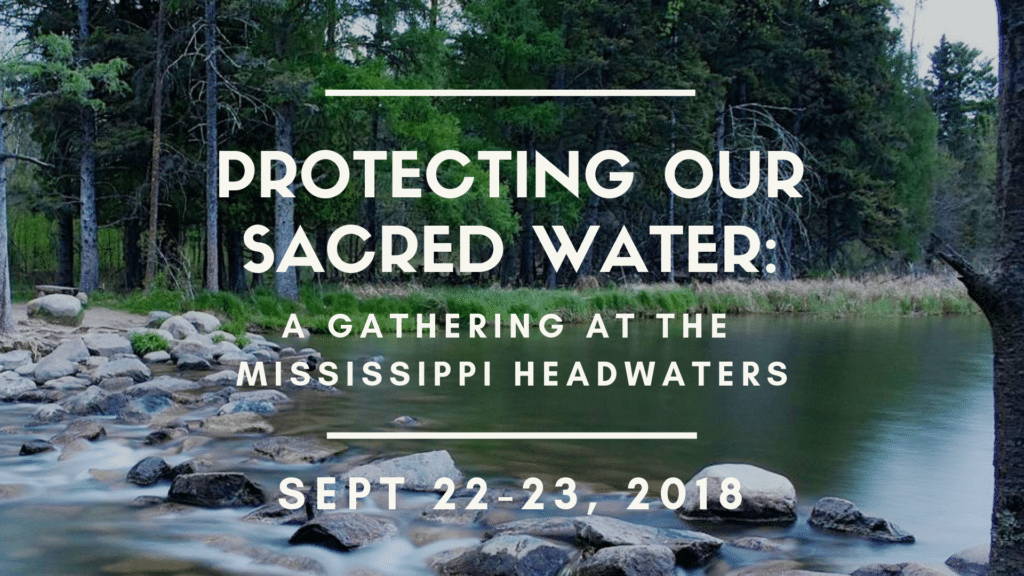 Protecting our Sacred Water: A Gathering at the Mississippi Headwaters
Join Minnesota Interfaith Power & Light, Minnesota Council of Churches and Honor the Earth as we bring an interfaith voice to the Mississippi Headwaters. RSVP here: http://bit.ly/2o39qNG
Together we'll honor this source of life, celebrate the lakes and rivers of Minnesota, and build relationships to carry us forward in protecting these sacred waters. We'll learn about Treaty Rights, Pipeline routes, language and culture and more.
The weekend will culminate with a vigil at the Mississippi Headwaters in which leaders from every major faith tradition will affirm the sacred nature of water and our moral commitment to protecting life, and saying no Line 3. Women, please bring skirts.
Will you join us? RSVP for to attend here.
Spread the word! Visit our Partner Kit for sample text, graphics, and posts.

SCHEDULE:
Friday evening 9/21 and Saturday 9/22 ~ Travel to the Headwaters from around the state to set up camp at Itasca State Park, Ozawindid group camp: https://goo.gl/maps/y1zX8SbsLPw
(Please click the directions button to see the exact location of this camp. You can also get directions at the park gate.)
**
Saturday 9/22 from 1 to 5 PM ~ Field Trips and Conversations: leaving from the Ozawindib group camp (https://goo.gl/maps/y1zX8SbsLPw)
White Earth Elder Dawn Goodwin will lead a trip to Upper and Lower Rice Lake to talk about the cultural and economic significance of wild rice. We'll get out in the water to see the rice; and have the option to stop by a native drum ceremony. Women Please Bring a long skirt if you want to attend the ceremony.
The Honor the Earth team will partner with Marty Cobenais to do a tour of the Old and the new line 3 pipeline proposed routes. We'll learn about what is at stake, how the process has played out, and what the economics of pipelines looks like for rural counties in MN.
Nate Taylor and his family from the Red Lake nation will be explore the cultural significance of language; and the history of his Language Immersion program on the Red Lake Reservation. Nate will talk about his own experience as an urban native youth and how language and return to Red Lake has been healing for him and his community.
**
Saturday 9/22 from 5 to 10 PM ~ Community Meal and gathering at Lake Ozawindib Group Camp — Winona Laduke MC; Leech Lake Drummers; art projects; music; fire
**
Sunday 9/23 from 12 to 4 PM ~ Vigil at Mississippi Headwaters ~ Enter from Mary Gibbs Visiter Center and gather in parking lot (look for the large banners) (12:00 to 1:00 Procession to the Headwaters; Prayer Circle with Native Spiritual Leaders and interfaith voices; 1:00 PM to 4:00 PM ~ open vigil for all to bring their prayers for the water.
Please bring sacred clothing if you feel inspired. Skirts for women are requested during the indigenous water ceremony. No banners will be allowed at the headwaters.
PARK ACCESS: Most Activities are taking place within the boundaries of the State Park. Please make sure you purchase a pass at the gate. If this is a barrier to you, we can provide funds to purchase a parking pass. Please check in at the Ozawindib group camp. To get to the Ozawindib group camp you must take the Wilderness Drive Road past the Headwaters area, past Burt's Cabins, up a hill, around a 90-degree bend and just before you get to the one way portion of the road look to your right for the Ozawindib sign and follow the long dirt driveway back into the forest. Drive to stay alive! https://goo.gl/maps/y1zX8SbsLPw
TRANSPORTATION: Carpools are being organized from the Twin Cities and Duluth, or travel on your own. Carpools are now filled, but email [email protected] if you are hoping to hook up a carpool.
ACCOMMODATIONS: People will be camping at Itasca State Park at the Ozawindib group camp. Some folks are finding hotels on their own. RSVP to sign up with the group: http://bit.ly/2o39qNG
HOST GROUPS: Honor the Earth, Minnesota Council of Churches, Minnesota Interfaith Power & Light, Stop Line 3

RSVP: Sign up to attend here. Open to all; donations appreciated to cover costs.
QUESTIONS? Contact Alina Yaman at [email protected]
Click here to join a team of faith actors gathering to make this happen. We'll add you to our rapid response list to keep you up to date about actions and conversations and invite you to help with organizing.