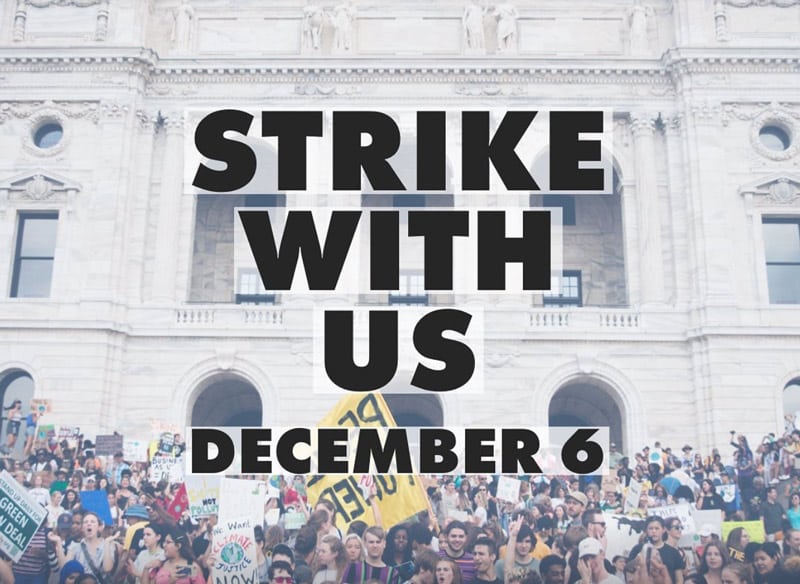 Nationwide Climate Strike
Locally and across the country, youth are organizing the next major #ClimateStrike for Friday, December 6th, and they're calling on people of all ages to participate. As the 2020 election season starts heating up, this is our chance to show politicians that supporting anything short of serious climate action is unacceptable. See details for statewide events below:
St Paul Climate Strike
December 6 @ 3pm
State Capitol, 75 Rev. Dr. Martin Luther King Jr. Blvd, St Paul, MN
Summary: The Minnesota Youth Climate Strike's fourth National Strike will take place on December 6, from 3pm-5:00pm. You can leave/join at any time – we will be having a teach-in at the Capitol rotunda.

The event will have a bit of a twist – we will be sitting in the capitol rotunda demanding that Tim Walz, Steve Simon, Julie Blaha, and Keith Ellison – the four Democrats who manage the state pension fund – divest from dangerous fossil fuel investments. We will have speakers, chants, action steps, and more! All ages are welcomed and encouraged to attend – we need all the help we can get if we're going to fight the climate crisis! Divestment demands can be found on http://www.divestinvestmn.org/
Duluth Climate Strike
December 6 @ 2pm
10 W Superior St, Duluth, MN
Summary: Join students and community members for the third Duluth Climate Strike on December 6th at 2pm. The event is set to start at the People's Power Plaza and we will march over to city hall around 3pm for a die-in. We can not combat the climate crisis alone. It will take everyone, so bring your voice, posters, friends, and a positive spirit!
Mankato Climate Strike (find your location for the strike sign-up link)
December 6 @ 4pm
10 Civic Center Plaza (In front of the intergovernmental building) Mankato, MN
Rochester Climate Strike (find your location for the strike sign-up link)
December 6 @ 10am
Rochester City Hall, 201 4th St SE, Rochester, MN
Day of Action – North Branch (find your location for the strike sign-up link)
December 6 @ 7:30am
North Branch City Hall, 6408 Elm Street, North Branch, MN
Day of Action – Center City MN (find your location for the strike sign-up link)
December 6 @ 7:30am
Chisago County Government Center, 313 North Main Street, Center City, MN