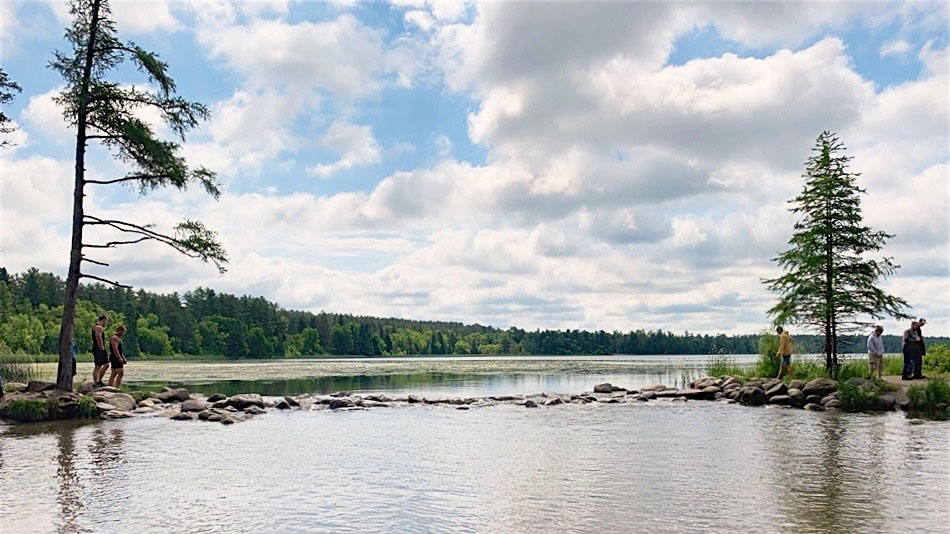 Protecting our Sacred Water: A Gathering at the Headwaters
Overview: Join us at Lake Itasca this September as part of a week of global climate action. We will be gathering in prayerful presence together at the Headwaters of the Mississippi to stand together as people of faith and spirit-led action. We will offer our prayers to the water in this critical time of water protection, solidarity with our Anishinaabe and Dakota siblings, and opposition to Line 3. RSVP here.
Download a printable PDF of the weekend schedule
—
Minnesota Interfaith Power & Light and Honor the Earth will once again bring an interfaith voice to the movement for environmental justice. Join us for our second year at the Headwaters of the Mississippi River for a community gathering and prayer circle to honor the sacredness of water.
We'll learn about Treaty Rights, pipeline routes, language and culture and more. The weekend will culminate with a prayer circle at the Mississippi Headwaters in which leaders from every major faith tradition will affirm the sacred nature of water and our moral commitment to protecting life, and saying no Line 3. We ask that women please bring skirts to respectfully participate in this circle.
In addition to its spiritual and cultural significance, we gather at the Headwaters to call attention to the proposed Line 3 pipeline project. Set to cross the Mississippi River very close to the Headwaters, this project threatens the livelihood of this essential waterway and the hundreds of thousands of communities who live along its shores and depend on the many watersheds that it flows into.
Over a year out from the Public Utilities Commission's decision to approve the Certificate of Need, essentially stating that this is a necessary project, 6 months after the Department of Commerce appealed that permit, and a couple months after their Environmental Impact Statement was deemed insufficient, we are still standing in legal limbo with this project, but Enbridge continues to promise a pipeline and acts as such. We invite you to join us powerful community- and spirit-led resistance to the ongoing destruction of our sacred Mother Earth. Let's imagine a new story of hope and justice together.
Contact [email protected] with questions.
SCHEDULE:
Friday evening 9/20 and Saturday 9/21 ~ Travel to the Headwaters from around the state to set up camp at Itasca State Park, Ozawindib group camp: https://goo.gl/maps/y1zX8SbsLPw
(Please click the directions button to see the exact location of this camp. You can also get directions at the park gate.)
**
Saturday 9/21 from 1 to 5 PM ~ Field Trips and Conversations: leaving from the Ozawindib group camp (https://goo.gl/maps/y1zX8SbsLPw)
**
Saturday 9/21 from 5 to 10 PM ~ Community Meal and gathering at Lake Ozawindib Group Camp
**
Sunday 9/22 from 12 to 4 PM ~ Vigil at Mississippi Headwaters ~ Enter from Mary Gibbs Visitor Center and gather in parking lot (look for the large banners)
12:00 to 1:00 Procession to the Headwaters; Prayer Circle with Native Spiritual Leaders and interfaith voices.
1:00 PM to 4:00 PM ~ open vigil for all to bring their prayers for the water; small closing feast.
Please bring sacred clothing if you feel inspired. Skirts for women are requested during the indigenous water ceremony. No banners will be allowed at the headwaters.
PARK ACCESS: Most activities are taking place within the boundaries of the State Park. Please make sure you purchase a pass at the gate. If this is a barrier to you, we can provide funds to purchase a parking pass. Please check in at the Ozawindib group camp. To get to the Ozawindib group camp you must take the Wilderness Drive Road past the Headwaters area, past Burt's Cabins, up a hill, around a 90-degree bend and just before you get to the one way portion of the road look to your right for the Ozawindib sign and follow the long dirt driveway back into the forest. https://goo.gl/maps/y1zX8SbsLPw
TRANSPORTATION: Carpools are being organized from the Twin Cities and Duluth, or travel on your own. Fill out our RSVP form and email [email protected] if you are hoping to hook up a carpool.
ACCOMMODATIONS: People will be camping at Itasca State Park at the Ozawindib group camp. We have limited spots in cabins for elders and those who need beds. Please do your best to let us know if this is something you'll need. Some folks are finding hotels on their own. RSVP to sign up with the group: https://forms.gle/GLgdDgabEi5nDv1e6