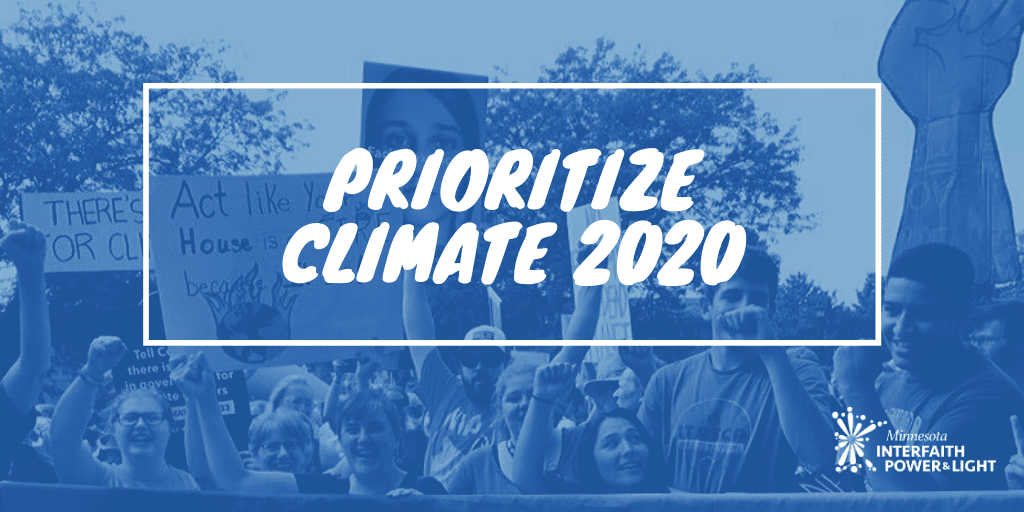 Prioritize Climate 2020 Webinar
Happy New Year! We look forward to embarking on this important year with you – a major opportunity to shift the tide for climate action.
We know that climate change isn't a future problem—it's harming communities across Minnesota and the world right now. From wildfires burning across Australia and the West Coast to devastating flooding in the Midwest, we see that the most vulnerable are suffering the most. The five hottest years on record have happened in the past five years. We have a moral obligation to our children to act now.
MNIPL is launching a roadmap called Prioritize Climate 2020 to help you and your faith community make climate a top priority for voters, candidates, and lawmakers in this important year.
We invite you to take the first step and attend our Prioritize Climate 2020 kickoff webinar on Tuesday, January 7 at 7pm. We will be sharing four key opportunities to mobilize together for climate. Please RSVP for the webinar at this link to join in person, or to watch a recording afterward.
We're building on powerful momentum from 2019, with youth climate strikers leading millions of people to walk out of work and school to demand climate action. For the first time, primary voters across the country named climate as their first or second priority. Thousands of Minnesotans called for 100% renewable energy by 2050, gaining the support of the Minnesota House and Governor Walz. The year ahead will be even more pivotal.
We're inviting you to four key opportunities in 2020 to mobilize and grow our collective power as an interfaith climate movement, making sure climate is a top priority for voters, candidates, and lawmakers in 2020:
Attend your precinct caucus on February 25 to make sure 

climate

 is a top priority for your party, whichever you belong to. Whether it's your first time at your caucus or you've been before, we have tools to help you invite and train members of your faith community. Thousands of Minnesotans caucusing for 

climate

 will send a powerful statement that 

climate

 is a top priority in 2020!
Strike for 

climate

 on April 22 — the 50th anniversary of the first Earth Day, when 20 million Americans (10% of the population) took to the streets to demand environmental action, and they won. We need millions in the streets again this Earth Day to call for 

climate

 action! Erica Chenoweth's research found that when just 3.5% of a population joins in nonviolent protests, they always succeed in creating structural change.
Vote for 

climate

 in the 2020 election! In addition to doing your own research and voting for candidates who are 

climate

 champions, MNIPL will be offering resources to get out the vote for 

climate

 in the 2020 election in your own community.
Choose your own adventure: Who are the decision-makers in your context who need to 

prioritize

 

climate

 in 2020? Work with MNIPL to create a plan to influence your key decision-makers—from asking your State Senator to support 100% clean energy to urging your city council to create a 

climate

 action plan!
Our goal is to build the momentum – with the end of 2020 seeing an overwhelming movement of people of faith who prioritize climate – and act together to make sure 2020 is the start of a decade of sweeping climate action! Fossil fuel companies have money. We have people, and people of faith and conscience are essential voices in this moment for climate.
Get started and RSVP for our Prioritize Climate kickoff webinar.
By RSVP'ing you can either join in person on January 7th or watch the recording afterward. We'll share in-depth how you and your faith community can join in these four key mobilizations. This will be a chance to hear from faith actors from across the state, ask questions, and gain the tools to create your own Prioritize Climate 2020 plan.