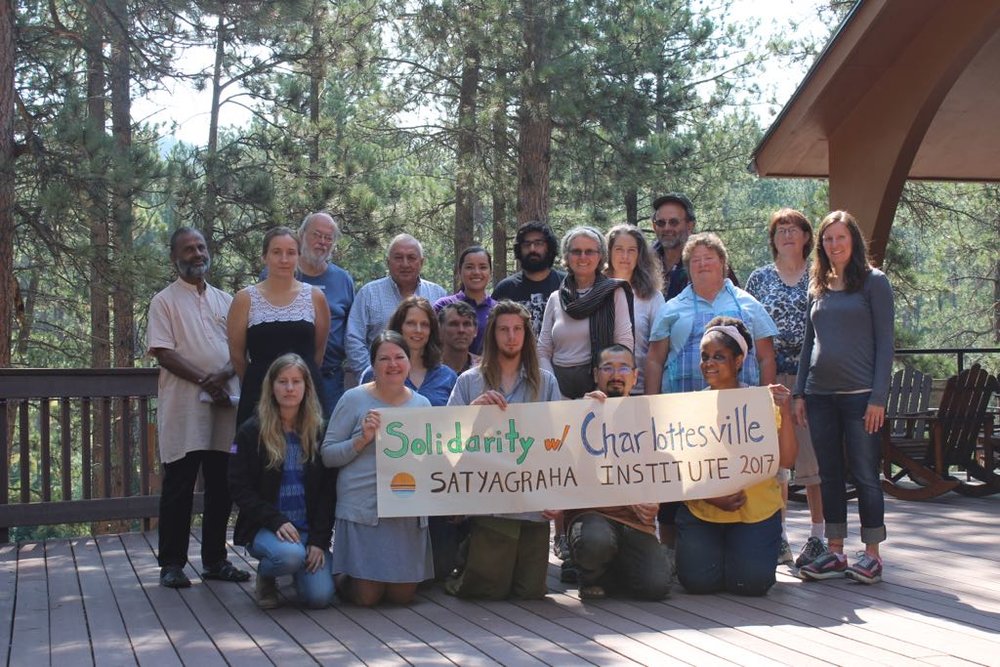 Satyagraha Institute in the Black Hills
The Satyagraha Institute promotes the uplift of all beings by cultivating leadership in the pursuit of truth and nonviolence. We work to promote the understanding and practice of satyagraha as a way of life and a method for social change.
We believe that today all life on earth is threatened. The dominance of a civilization with a destructive relationship with the earth has brought us to the edge of ecological catastrophe in a few short decades. As our climate continues to show signs of dramatic change, exploitative interests continue to dredge as much profit from the earth as possible, poisoning it in the process. The resulting disputes over land and natural resources is causing violence against and among human communities.
There are alternative models of life than those rooted in this materialistic and exploitative contemporary paradigm. These alternative models can be seen in the traditional world views of indigenous peoples and in the worldview of those rooted in an understanding of nonviolence, like Mahatma Gandhi. Here relationships and respect for all life and the earth are paramount. In his ideas and ideals, Gandhi, contributes a way of life that draws on the best of ancient practices and values, and challenges us to implement them in our present context.
Therefore:
Given the continuing threats to the very bases of human life: land, water, air, plant and animal species
Given the violence directed toward indigenous communities, struggling to reclaim and retain their lives and livelihoods, identities, languages, and world views
Given the location of the Satyagraha Institute program in the Paha Sapa (Black Hills), sacred lands to Lakota/Dakota/Nakota people
Given our conviction that only nonviolent change will bring healing for the earth and its beings
Given our commitment to training leaders in Gandhian nonviolence
We commit to bringing together in our 2018 Black Hills program, those who are able to share world views that can contribute to our vision for the future, and help us to effectively oppose those forces of violence and destruction desecrating the earth and its peoples.
We welcome applications from all those interested in deepening their own understandings and commitments.
https://satyagrahainstitute.org/black-hills#blackhills