Become an MNIPL Climate Justice Household!
While the climate crisis can be overwhelming, we are not alone. It's important to join with others -- those closest to us as well as across the wider community -- to feel that our impact can make a difference. We can share with each other the practical tools, goals for system and policy change, and community actions that build support and relationships to achieve changes small and large.
The Climate Justice Household Program serves people committed to effective and sustained action in response to the climate crisis. This process will help you and your household gain the focus, resources, and support to galvanize committed climate action. We invite you to join a growing number of communities raising a collective voice and driving concrete projects for action on climate change.
To get started, fill out the interest form here:
Program Activities
This Climate Justice Household program provides resources and a map to deeply engage your family in the work of climate justice. Here are the steps to becoming a certified Climate Justice Household:
Fill out the Interest Form.
Gather your household (or group) to discuss your vision, goals, and commitments for the year.
Write a Vision Statement for your Household or Group (e.g. We will reduce our carbon footprint by 10% in 2020)
Visit the Cool Congregations Household Calculator, estimate your current carbon use, and explore various options to reduce your footprint.
Formulate 1-3 smart goals:
– Relational/Spiritual Change
– Practical Change
– Systemic Change
Fill out the Climate Justice Household Plan Form
Once you have established your plan, set up regular check-in meetings (weekly, monthly, or quarterly) by phone, email, or in person to celebrate successes, brainstorm ways to overcome barriers, and work your plan. You can return to the Carbon Tracker throughout the year to measure your results. At the end of the year, MNIPL will send you a quick and easy report form to document your efforts. Then join us for a Climate Justice Household Gathering to celebrate your accomplishments with others. You'll be motivated to create another plan for next year!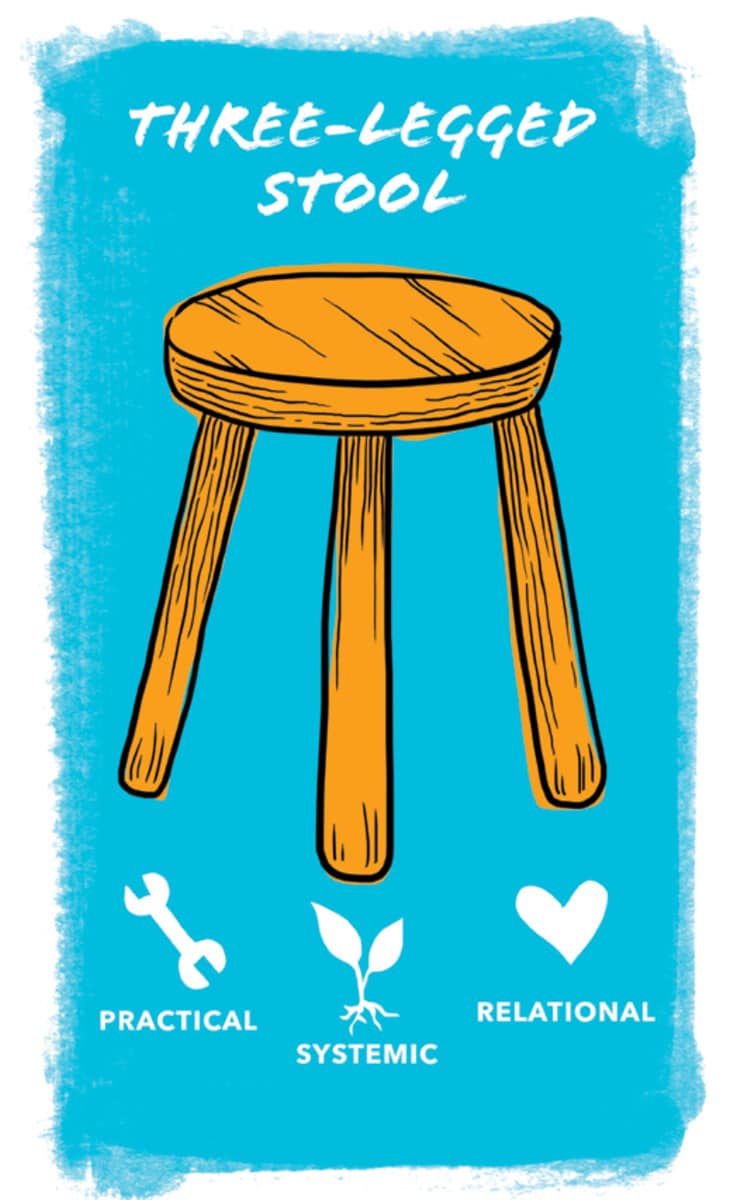 Smart Goals
As your household builds its three-legged action plan, MNIPL recommends identifying SMART goals in each of the three areas.  These goals are:
Specific: Clearly-defined, often by numbers or steps
Measurable: Can be assessed when completed through numbers or measurement
Activating: Inspiring and worth doing, visible
Reasonable: Can be done with the resources at hand
Time-bound: Goal is met by date selected
How to Create Your Plan
Effective change starts with a vision and a personal commitment. If we can see where we are going, identify clear and doable steps to get there, and surround ourselves with support, it is more likely that we will be successful. Americans typically "spend" 16 tons of Greenhouse gases, per person, every year.  This program will assist you in making and carrying out a plan to reduce your carbon impact.  It will also help you to build relationships and a sense of community as you join the growing movement to address the Climate Crisis. The Personal is Political.
Create Smart Goals for Each Leg of the Three-Legged Stool:
 

Practical Household Options to reduce Carbon Footprint.
By conserving energy, joining a solar garden, planning "meatless day" menus, gardening, recycling and composting, purchasing second-hand clothes and products, car-pooling, biking or taking public transportation, and many other options, your household can tangibly reduce your carbon emissions.
 

Encourage Systemic Change to Address the Climate Crisis:
By joining in partnership with youth and front-line communities we can implement solutions that address systemic problems and co-create a just and sustainable world.  Your household could lobby for State, County and Municipal laws and policies, write letters to the editor, sign petitions, attend marches or demonstrations, contact elected representatives, and attend public hearings. Vote for Climate Health!
 

Relational and Spiritual Actions
Successful movements involve ways we can work to bring balance and health into our relationships with ourselves, each other and the natural world. Households can create a "Buddy System" with other households or friends to share ideas and keep each other on track, suggest climate topics for book groups, civic or faith communities, and take a walk in nature.
Example Smart Goals for Your Action Plan
Meeting practical, systemic, and relational/spiritual smart goals with the tactics you choose will reduce your household's carbon footprint and contribute to the global movement for climate justice.
PRACTICAL SMART GOALS – IDEAS:
 High Impact
Purchase or lease an electric vehicle (EV) or hybrid.

Reduce consumption of "factory farm" beef and dairy products.

Limit air travel as much as possible. 

Install solar panels.
Moderate Impact
Set thermostat 3-4 degrees higher in summer, lower in winter.

Do not exceed the speed limit; accelerate and brake smoothly.

Reduce food waste by 50%.

Buy less stuff and throw away less.
Lower Impact
Recycle all paper, glass, metal, and plastic—following collectors' guidelines  

Install LED (warm light category) bulbs throughout.

Replace furnace or AC filters every other month
SYSTEMIC  SMART GOALS—IDEAS:
Attend pro-environment or climate demonstrations, public hearings, or meetings.

Invest your money with financial institutions that do not invest in fossil fuels. Learn more at stopthemoneypipeline.com/resources/

Establish a recycling or composting program for your apartment/community complex.

Join an environmental organization and contribute money or volunteer time. 

Call local and state representatives to tell them that you support carbon reduction.

Write a letter to the editor of your local newspaper in response to an energy article.

Read a book or article, or follow a website, about the climate crisis and solutions.
RELATIONAL/SPIRITUAL SMART GOALS—IDEAS:
Hold a vegan potluck with fellow climate justice households.

Contact friends to join you in pro-environmental marches or demonstrations.

Form a "Spirit and Environment" book club, discussion group, or devotional.

Experience a household "digital detox" day—Turn off all devices.

Connect with Nature each month in a park or wildlife reserve.