The same systems that separate us from caring for the earth also work to separate us from caring for one another.
The United States was built on land stolen from Native people by the stolen labor of enslaved Black people. The same way of thinking and being has created a world dependent on fossil fuels at the expense of our care for each other and the earth.
We can't work towards a thriving, just, and sustainable world without also committing to repairing the wounds of land theft and enslavement.  
What sort of ancestor will you be?
"History is not the past. It is the present.
We carry our history with us. We are our history."
— James Baldwin
Join our Reparations Learning Labs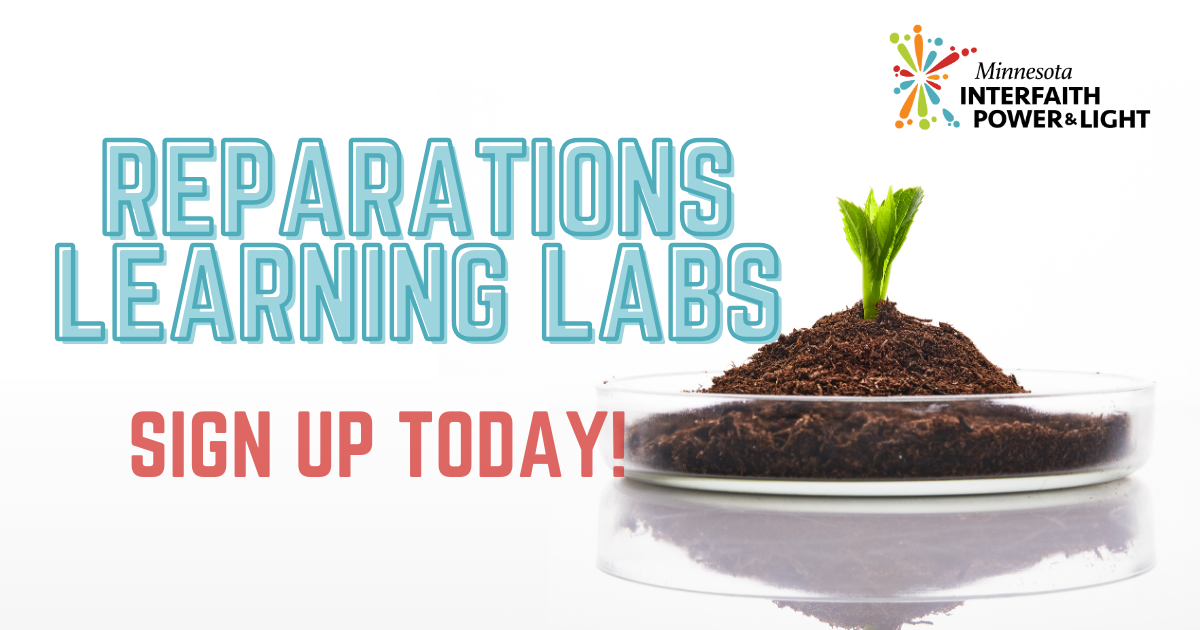 MNIPL's Reparations Learning Labs support a community of doers who are committed to repairing the harms of colonization through action.
These monthly sessions will help people who are ready to move beyond reading and discussion into doing.
Being a part of these labs invites us into our commitment to the forever work of decolonizing ourselves and our communities.
Here's how the sessions work: 
We start with a topic of conversation about potential concrete actions towards reparations in our own lives

We dig into how that approach would feel for participants in their work or communities

We collaboratively create a practical toolkit that we can take with us into our work and communities
Ideally, folks will come to all four sessions, but people can also come for just one or two. All sessions will take place on Zoom.
Who are these sessions for?
These sessions are designed specifically for white folks of faith who are ready to move past learning about the problem into doing something about it.
You may be just starting out, stuck in your journey after trying stuff that hasn't worked as expected, or coming back to this intentional work.
Black, Indigenous, and People of Color who are interested in this work are also welcome!
Before you sign up, there's a couple things to know:
The events are free to attend, but we're asking folks to commit to taking action in order to participate. You can either donate to support our BIPOC Reparations Advisory Table or share our Reparations Learning Tables with a friend or neighbor.
We also recommend that you watch our Reparation Learning Tables videos before you come - these are a primer on what reparations are, why they're important, and how to make a commitment to change.
Sign up now!
All the sessions will be over Zoom. We'd love for you to join us for all four sessions, but if you can only make one or two, that's great, too!
These sessions will not be recorded, so make sure you sign up!
Take more action on reparations! 
Support our BIPOC Reparations Advisory Table
This team of 8-10 BIPOC leaders will assemble quarterly to counsel our shared reparations work. And this fund ensures that MNIPL can meaningfully compensate these leaders for their time and talents. Every dollar donated through this page goes to the amazing activists who are guiding us towards authentic change.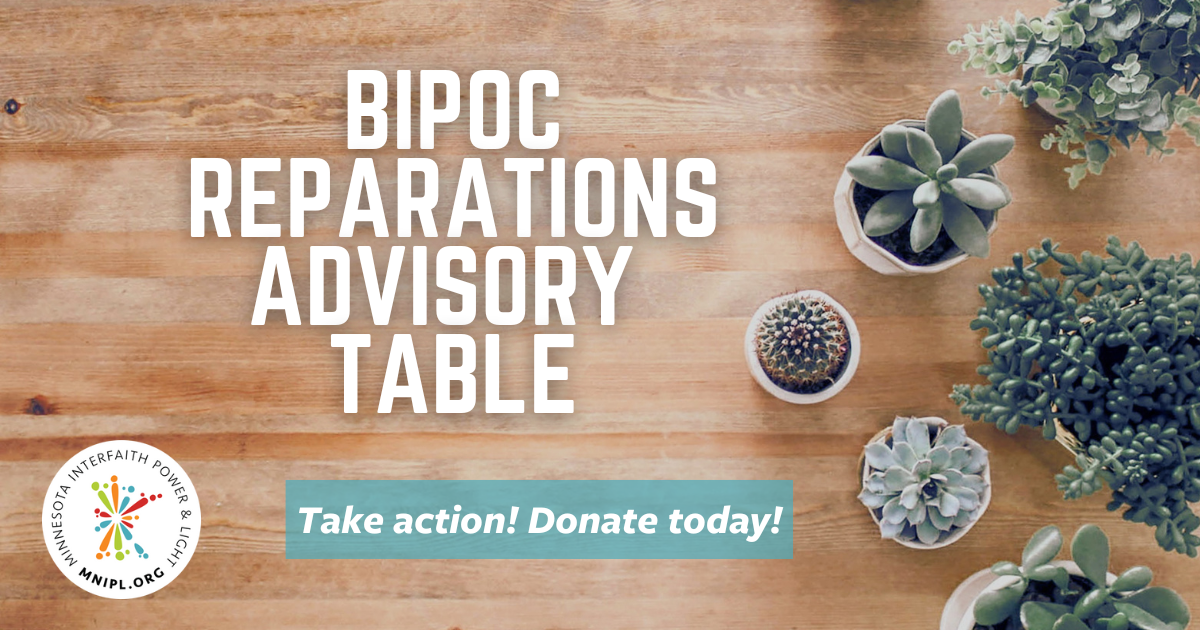 Watch for the launch of our online Learning Labs in fall 2023.
This will be a monthly online gathering staffed by MNIPL's policy analyst Jessica Intermill, where you can ask questions about and discuss with others any reparations matter that is on your mind. Check back soon for schedule and information about how to log on.
Sign up for MNIPL's Reparations Learning Community
This email community (moderated by MNIPL's Liz Loeb and Jessica Intermill) is a place to ask questions and engage in conversations about reparations and reparatory actions. We will share event and action opportunities, and support each other as we do the work of repair. Individuals and congregational teams are welcome. To join, email [email protected] and ask to be added to the group!
Watch the recordings (below) of our Winter 2023 Reparations Learning Table workshops:
These entry-level workshops led by Liz Loeb and Jessica Intermill will introduce you to MNIPL's approach to reparations and familiarize you with concepts and vocabulary that will help us journey together.
Workshop 1 -  Reparations: What are They?
Workshop 2 - Why MNIPL and Why Now?
Workshop 3 - Reparations: What's Faith Got to Do With It?
Workshop 4 - Reparations: What is Your Story?