Last year, we pushed for significant investments in green energy for communities of color, Indigenous communities, and low-income communities. Now we need to make sure those dollars go where they were promised.
As people of faith and Indigenous leaders, we're taking the "green road" to build a local renewable economy that supports vibrant Native and non-Native communities living in right relationship with the land.
Our platform is based on years spent building an authentic coalition between people of faith and Native and Indigenous people. It represents a fundamentally long-haul plan for true healing, respect, and sustainability. Regardless of what happens in the legislative session, we will never cease striving for the realization of this vision.
Join us in ushering in a new world!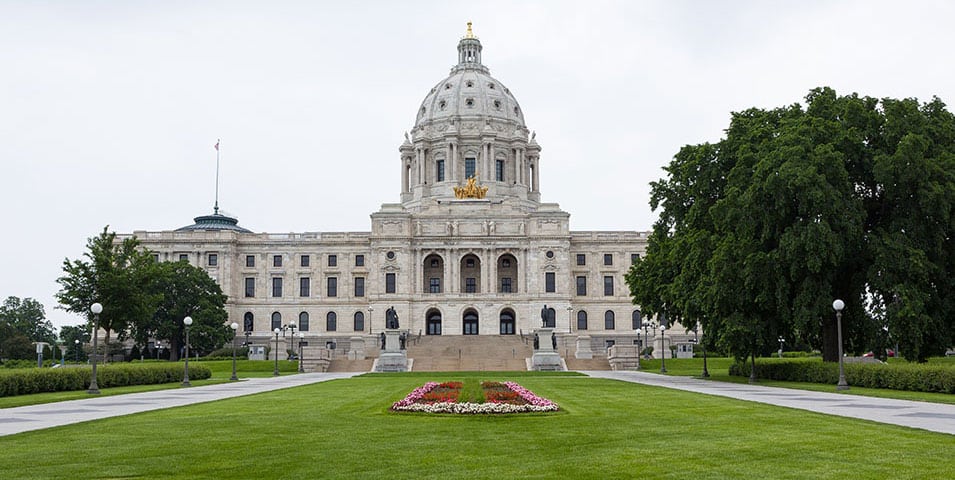 ADVOCACY ALERTS
Contact your Senator or Representative to urge their support on key bills going through the Minnesota Legislature.
Platform
Our platform includes five categories of work in which we see real opportunities for progress and funding in this 2023 legislative session. Questions? Contact Juventino Meza, MNIPL's legislative affairs coordinator, at [email protected].
Reparations
Engages in the work of truth telling, relationship building, and spiritual grounding; moves individuals and communities to political solidarity and wealth return.
Climate Goals & Truth Telling
Creates a 100% carbon-free electric energy supply and restricts approval of C02 pipelines if they deliver carbon for Enhanced Oil Recovery.
Economic Development & Just Transition
Increases funding for renewable energy workforce training, solar on schools, and locally feasible, climate-helpful crops.
Regulatory Protection of People, Land, Air, & Water
Advances tribal authority and tribal sovereignty. Prioritizes consumer demand, not energy industry demand.
Environmental Justice
Centers the needs of BIPOC and Indigenous communities and builds a sustainable future in which all people in Minnesota can thrive.
MN Climate Innovation Finance Authority (MNCIFA) Bill
Blog posts:
Fill out this form to tell us about your community and what project ideas this financing can make a reality. We will use these ideas in our outreach to legislators as to why this bill is important across Minnesota.
Solar on Schools Bill
Bonding for Resilience
Every bonding project can be designed to help meet our climate goals. Fact sheet
Read MNIPL's Legislative Blog Posts
Watch a recording of our 2023 Platform Launch held on January 11. Speakers included Winona LaDuke, Patricia Torres Ray, Robert Blake, Jim Bear Jacobs, and MNIPL staff.
Video Testimonies Before House & Senate
Julia Nerbonne: HF7, a bill to establish the MN Climate Innovation Finance Authority (3/7/23)
Makayla Freeman, a youth leader: SF4, a bill requiring 100% carbon-free electricity by 2040 (1/23/23); also this blog post
Julia Nerbonne: HF7, a bill requiring 100% carbon-free electricity by 2040 (1/18/23); also this blog post