Enbridge has finished construction of Line 3 and oil can start flowing, but we know this movement goes beyond a single pipeline. We are fighting for the end of all fossil fuel projects. We are fighting the scourge of racism because we know that's what makes climate destruction possible.
We continue to show up in this movement because we are guided by the deepest values of community and care. We show up because we share a collective imagining of a world based on renewable energy, equity and prosperity for all.
Together, we are powerful beyond measure.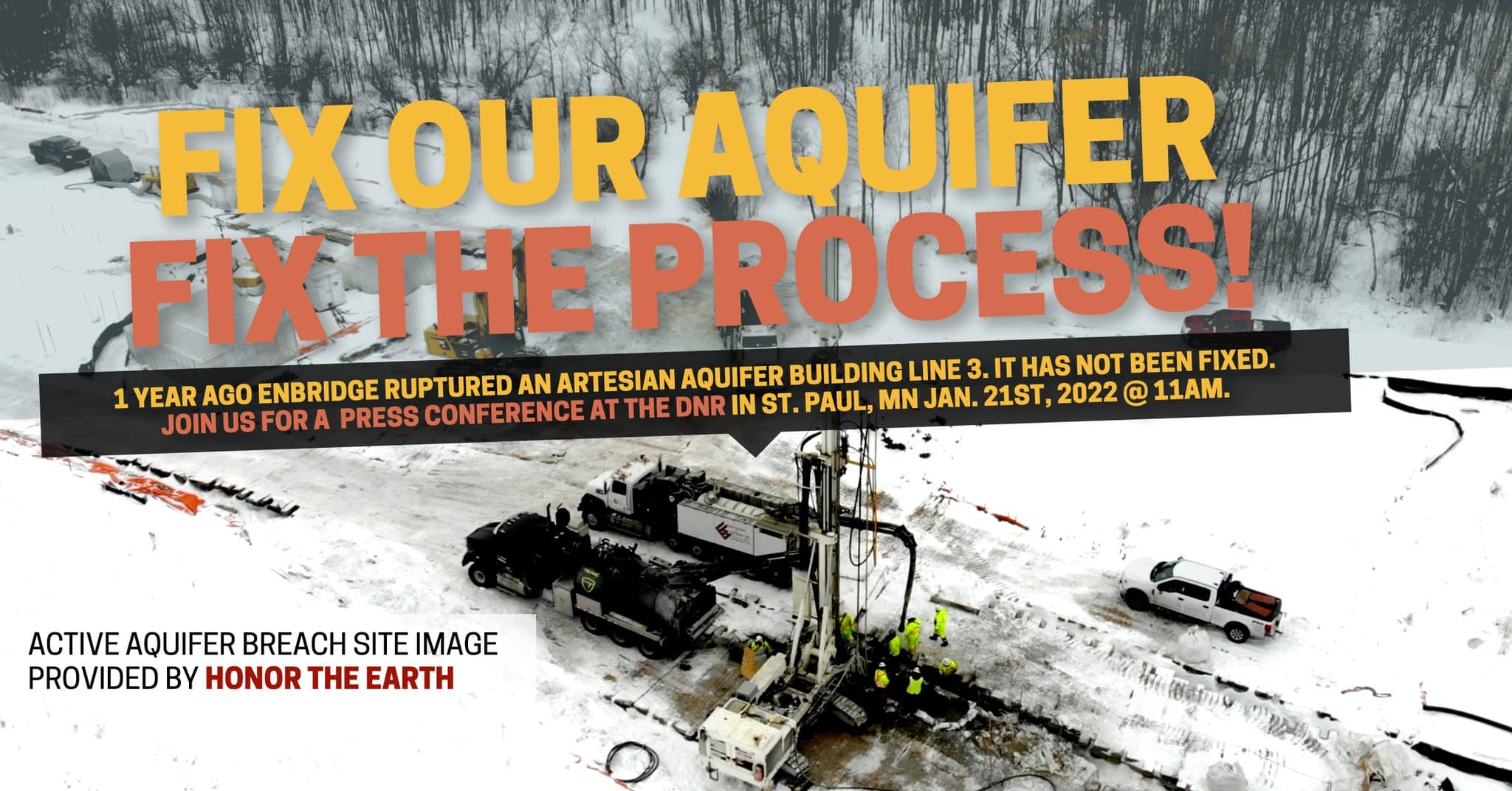 Friday, January 21
Fix Our Aquifer, Fix the Process!
11:00 AM CT - St. Paul & Livestream
Gather at the Twin Cities' DNR Offices (500 Lafayette Road, St. Paul) for a press conference and protest. Share this Facebook event and call attention to healing the water and calling on those in power to FIX the regulatory process. If you can't be in St. Paul, watch the livestream on Honor the Earth's page.
1:00 PM CT - Clearbrook & Livestream
Indigenous leaders will hold ceremony at a commemorative gathering at the site of the aquifer breach (470th St. in Clearbrook, MN). Share this Facebook event and watch the livestream from RISE Coalition or Indigenous Environmental Network.
Join the Water Protection Multifaith Team
Each week, a group of people grounded by their faith traditions, spiritual practices, and moral convictions, come together virtually to protect the water. We strategize, build community, and grow a love-filled movement for a world without extreme extraction and settler colonialism. Join us online on Mondays from 6-7:30 pm!
Frontline Indigenous Groups
Water Protectors are actively on the frontlines to defend the water, land, climate, and wild rice. Follow our partners on social media for real-time updates and specific opportunities to get involved.
Information & Stories from the Movement