FIrelight includes content to nourish our souls and inspire our climate justice work. We hope these offerings can also support your meetings and gatherings as you ground your time together in relationship and care.
If you'd like to contribute a reflection, success story, poem or other source of inspiration for Firelight, contact outreach@mnipl.org with your idea and our editorial team will be in touch.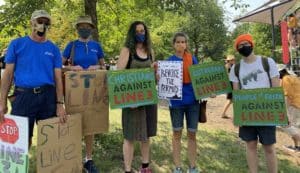 Many members of MNIPL's extended community attended August's Treaty People Walk for Water and Treaties Not Tar Sands. Here are a few beautiful personal testimonies about their experiences, offered generously through words, video, and imagery.