Climate Story: Zack Pederson
June 16, 2022
| contributed by
Stories help people connect with one another and can move us to action. Storytelling is a core component of the Environmental Justice class at the University of Minnesota, with MNIPL's Dr. Julia Nerbonne. This spring, Jothsna Harris, founder of Change Narrative, and Whitney Terrill had the privilege of mentoring four students as they worked on their own and community climate stories. We are excited to share their words!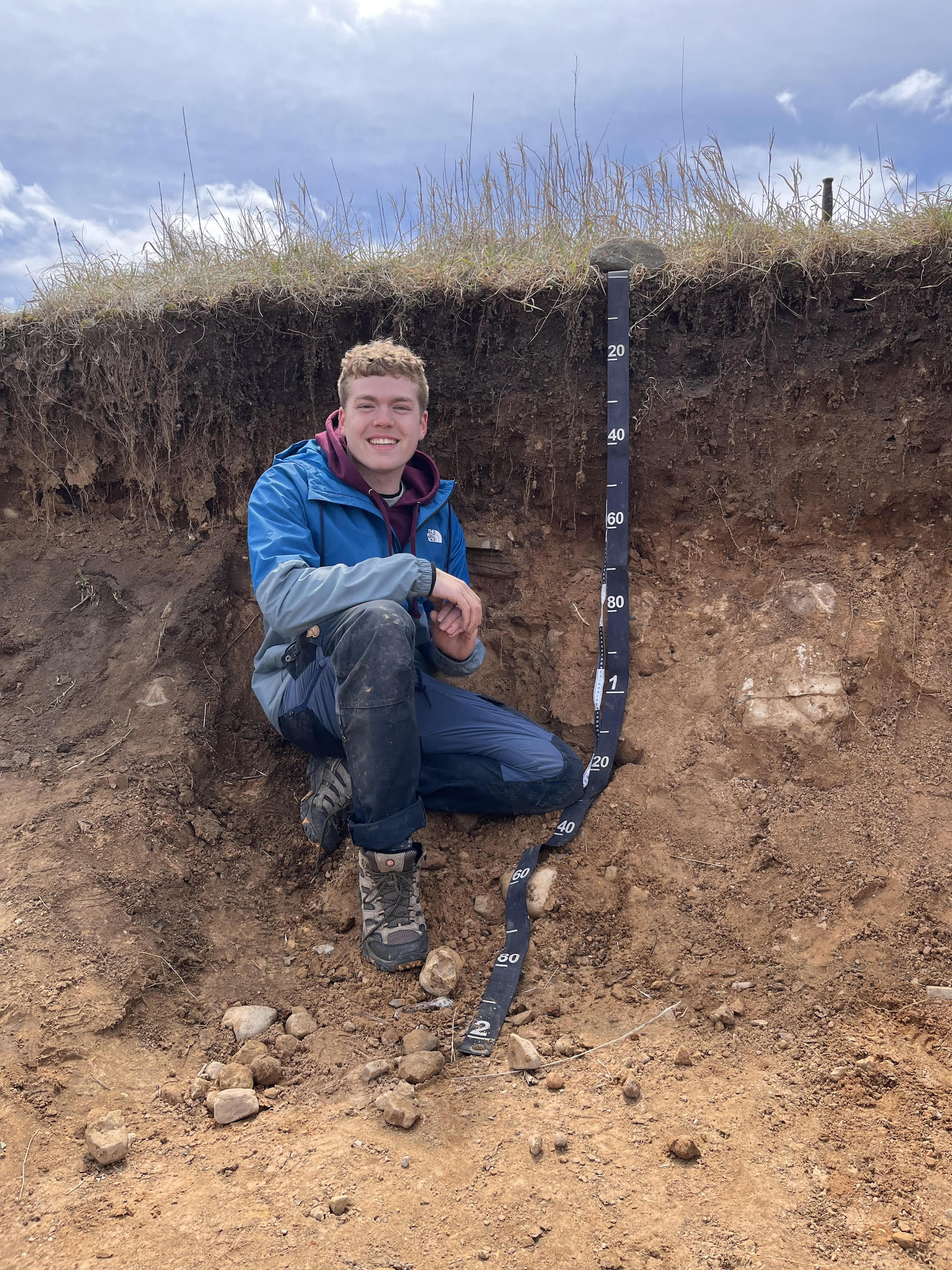 As with many stories in my life, my memories take me back to my mom's garden and the precious lessons I learned there. I felt the coldness of April soil for the first time in that garden. I planted my first seeds, saw my first peas grow from a little dented green ball into a string of life that clung to the support system I had given it. As I grew up, that garden and my mom taught me to be in tune with the climate. My mom and I would pick our raspberries on a cool July night wondering when the next rain would be, all in between eating handfuls of that irresistible red fruit. As I grew up, though, I realized we stopped having these conversations. We knew the rains weren't coming, no matter how many spoons I put under my pillow at night or how many times I spinned clockwise or counterclockwise.
You see, many people think Western Washington, where I grew up, gets rain year-round. We don't. While we are blessed with freshwater from the Cascade mountains, most of our rainfall happens in the wintertime. Growing up I became accustomed to summers where we didn't see rain for 3 months. When it rained, it was a cause for celebration and we would run outside and dance and play, enjoying the rare smell of wet earth after a summer without rain.
When I moved to Minnesota in August 2019 to attend the University of Minnesota, I was shocked by how lush it was. That night I witnessed my first midwestern thunderstorm. Moved by its sheer power, I stayed up the entire time watching it like a movie, with its soundtrack being the cadence of rainfall tapping at my dorm window. Lawns survived without watering, gardens thrived as if that was what they were naturally meant to do. I came a month early to be in the marching band, and my friendships in my trombone section flourished just as easily. When my first Minnesota winter came, I was moved by how homey everything felt with my friends, and for the first time I wasn't dreading the long wait until spring. I fell in love with this Minnesota, and I still am.
Tragically, Covid-19 threatened to uproot all the beautiful connections I had made in my new home. I moved back to Washington, lost, broken, afraid, and thousands of miles away from the friends I had just grown so close to. Like other times I'm lost, I found my hands urging me to dig in the soil of my mom's garden. Thank god for that place, it saved my life. That summer I realized this connection to the Earth is so much more than just a hobby; that does not do it justice. Finding this connection to the earth as a young adult, the nourishment I felt in the soil, it was like finding a piece of me that had been missing this entire time.
Climate change, though, almost burned this place and my town to the ground that summer. After an entire season without rain, my small town was a patchwork of dead grass and dying trees. Sure enough, someone didn't put out their cigarette and a fire spread, and it spread fast. Sumner, Wash., is in the basin of a valley, and you could see the wall of fire swallowing the forest I had known, and gazed at my entire life, creeping down the valley hills towards us. My town was evacuated within hours. You know it's funny, we were more prepared to escape the lava in the event of Mt. Rainier erupting than evacuating due to a wildfire. The reality of climate change felt like a slap to the face. The cool, lush summers of Washington my parents so fondly talked about were dead, replaced with drought, the perpetual threat of fire, and with it the overwhelming feeling of vulnerability.
Luckily, the wind changed by some miracle, and my town was spared, except for one house. I still feel that fear.
Later that fall I moved to Milwaukee with two of my moms, one of whom was pregnant, and my grandmother who was living with us. My family was in the extremely high-risk category for Covid-19. My grandmother had just gotten out of the hospital after several months of recovering from a pulmonary embolism; her doctors told her she would certainly die if she got Covid. Pregnant women could have a miscarriage if they got too sick.  My family was in lockdown and took zero risks, and I found the November oaks of Milwaukee filled in for my friends. For an entire year, I went without being in the same room as the friends I loved in Washington or in Minnesota. I so desperately craved that connection, but I knew I had to protect my family's health before all else. That winter, the oaks' canopies protected me, as if telling me they understand and that it will be okay, they too are waiting for warmer days to come.
I still felt lost. I was depressed and afraid about my mom's pregnancy because of Covid-19 and because she had pre-eclampsia. But we welcomed Maya Ranger Pederson into our family on February 8, 2021, and my life changed forever. Still lost, but having found a piece of me that had been missing all this time. Holding her skin to skin and feeling her little lungs take those small breaths – just weeks old – that changed me. I felt so afraid of the future we would share together, all this uncertainty. She only wanted to be held for quite some time, so I would hold her from 10pm to 2am so my moms could get some sleep. Seeing how helpless she was and dependent on my family's love, I understood I was entering a new phase of responsibility in my life. I turned this fear into the drive and purpose I have today. When I want to quit, I think of her. She keeps me here.
This fall, having left Milwaukee back for school in Minneapolis, I entered the darkest depression I have ever known. Not being able to hold her – it felt like I had lost the one thing that kept me wanting to wake up in this world. That October I almost committed suicide, and I was closer than I care to admit. But it was her that kept me here. Maya. The thought of someone having to explain what happened to her older brother broke me in a way I can't express in words, and I knew I couldn't do that to her. For her, I took it one day at a time. For her, being alive was better than being dead. It was the one thing I could offer, to assure her that I would always be there for her when she needed me.
At first, I didn't want this to be my story. I've realized, though, that there is nothing wrong with this being my story; it's beautiful. I chose to stay. I chose to start to see the beautiful things around me that had been saving me all this time. The oaks, the spring flowers, the trail of bunny prints in freshly fallen snow, the memories of my mom's garden.
Recently I saw a lifelong pair of ducks swimming in the Mississippi in the lower part of Father Hennepin park. They were eating bugs and fish and plants in an oil slick. They choose to stay. They choose to come back every year and call this place their home. In other words, they choose life despite what we have done to make it so easy for them to give up.
I realized right away that we aren't unlike them. We choose to live our lives despite racist urban planning that leaves some of us more susceptible to dying from asthma or police brutality. We choose to make our house into a home despite the lead paint that poisons our children, the polluted water we urge them to drink. We choose to show up and vote despite the suppression of our voices. Despite it feeling like our lives are in their hands, we can take them back into our own. Not only for our friends and our families, but for those two little helpless ducks only trying to do what they do best. I'm still uncertain about many things in this life but I know we can either choose and fight for life or death is chosen for us.
Do we want a system, a climate that brings death? Or do we want the one that fosters the lush, cool Washington summers my parents still dream about? To me, this decision is the easiest one we can make. Let's choose life for us, all the living beings here now and those yet to come.
I hope this can help someone out there. You never know who might be struggling with suicidal thoughts; they are far more common than we care to admit. Sharing these stories, while hard to read, might spare a community from a lifetime of heartache that suicide so often brings. If you or a loved one is at risk of suicide, please call the National Suicide Prevention Lifeline at 1-800-273-8255 or text MN to 741741. There is nothing wrong with you, you are loved and will always find love if you remember to look for it.