Reparations Learning Table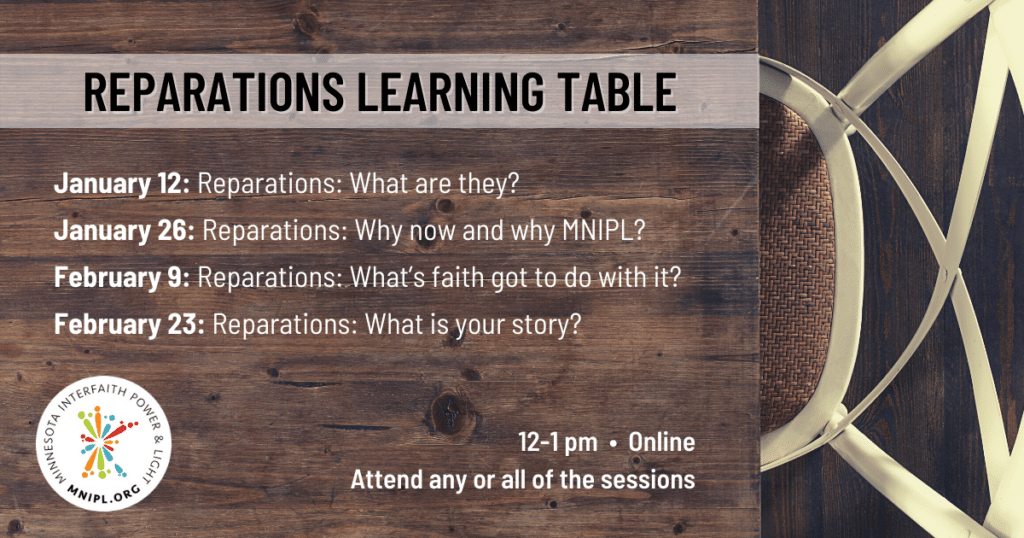 This four-part online series will explore the foundations of reparations. Through shared learning and conversation, we hope you can feel more confident and empowered to explore your own relationship to reparations and to start reparations conversations with your faith or spiritual community.
For each session, we will meet virtually from 12-1 pm. Feel free to bring your lunch and have your camera turned on or off.  Attend any or all of the sessions as an individual or part of a community team. We look forward to being with you! This learning table is co-facilitated by Jessica Intermill and Liz Loeb. Questions? Email [email protected].
Register below!
January 12:  Session #1 – Reparations: What are they?
Learn about the movement for reparations in the United States, including how reparations with Black and Indigenous communities may differ, and how reparations are related to but different from charity. Through this shared experience, we will explore how a tool called the Reparatory Eco Map can help us move from conceptual discussions about reparations to concrete action.
January 26:  Session #2 – Reparations: Why now and why MNIPL?
In our climate justice work, we often talk about divestment from dangerous and destructive systems, but what can we invest in? Reparations are a deep part of our commitment to healing in the world. The systems that exploit fossil fuels at our expense were built through enslaved labor and Native land theft. Reparations are intertwined with climate justice, and we're excited to explore what this means for our movement with you!
February 9:  Session #3 – Reparations: What's faith got to do with it?
Making mistakes is part of the human experience. So it's not surprising that many faith traditions have teachings and practices about repair. Learn what several faiths say about repentance and repair and how to draw upon and build from these existing spiritual practices within your own reparations work.
February 23: Session #4 – Reparations: What is your story?
Reparations matter today because "then" is not separate from "now." Hear co-facilitator, Jessica Intermill, relate her family history of pre-revolutionary colonizers, prairie pioneers, and recent immigrants to her current reparations work. Learn how to apply the idea of "stacked history" in your own life.
---
Register Here: