We are at a historic moment for Minnesota with an approximately $17 billion state budget surplus and a climate-led House, Senate, and Governor's office.
We have an amazing opportunity this legislative year to effect meaningful change with a bold climate and equity platform.
As people of faith and Indigenous leaders, we're taking the "green road" to build a local renewable economy that supports vibrant Native and non-Native communities living in right relationship with the land.
Our platform is based on years spent building an authentic coalition between people of faith and Native and Indigenous people. It represents a fundamentally long-haul plan for true healing, respect, and sustainability. Regardless of what happens in the 2023 legislative session, we will never cease striving for the realization of this vision.
Join us in ushering in a new world!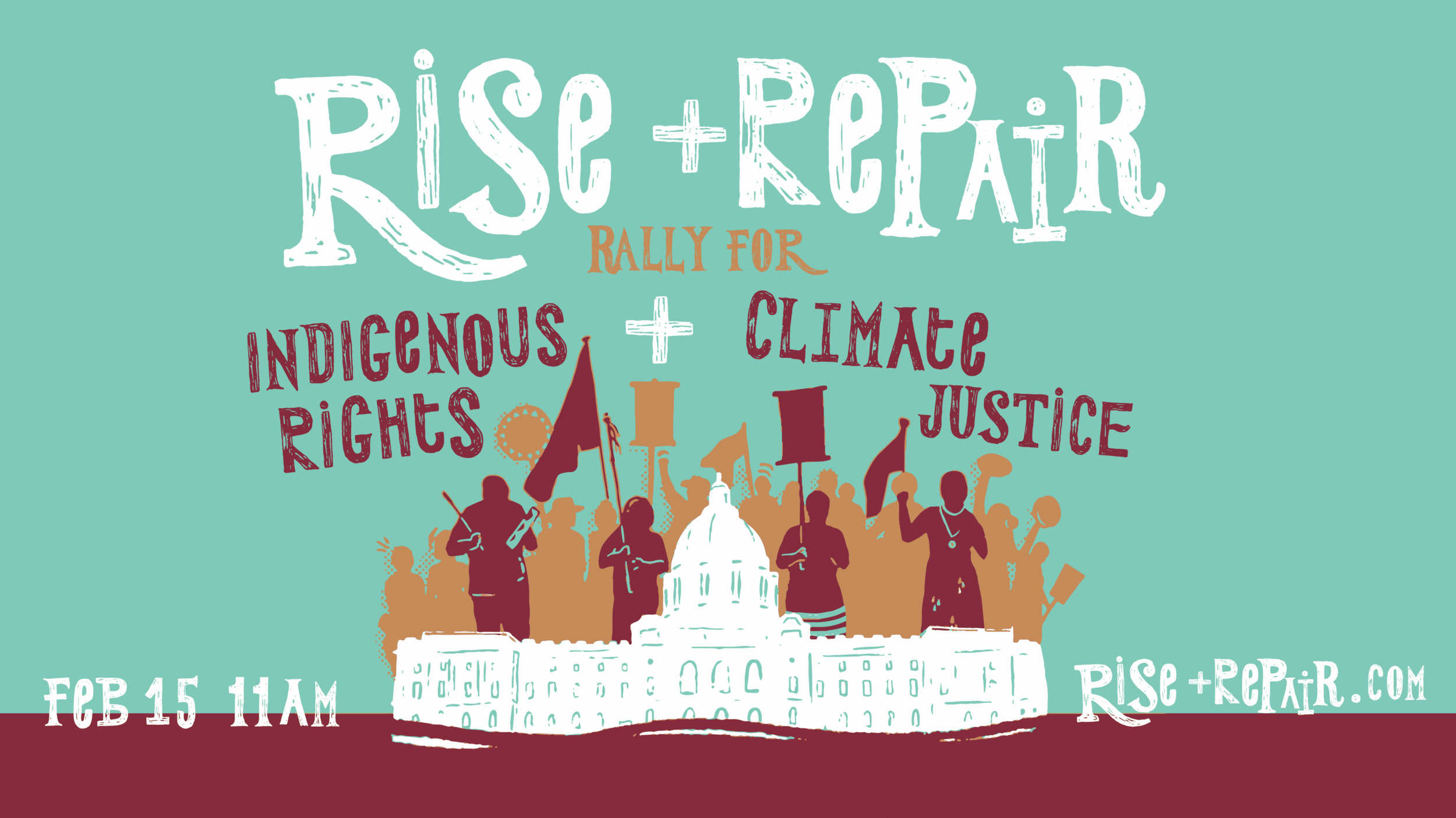 We need your voice!
Join us on February 15 at the MN State Capitol to call for legislative actions to fulfill treaty promises and build an equitable renewable economy.
Platform
Our platform includes five categories of work in which we see real opportunities for progress and funding in this 2023 legislative session. Questions? Contact Juventino Meza, MNIPL's legislative affairs coordinator, at [email protected]
Reparations
Engages in the work of truth telling, relationship building, and spiritual grounding; moves individuals and communities to political solidarity and wealth return.
Climate Goals & Truth Telling
Creates a 100% carbon-free electric energy supply and restricts approval of C02 pipelines if they deliver carbon for Enhanced Oil Recovery.
Economic Development & Just Transition
Increases funding for renewable energy workforce training, solar on schools, and locally feasible, climate-helpful crops.
Regulatory Protection of People, Land, Air, & Water
Advances tribal authority and tribal sovereignty. Prioritizes consumer demand, not energy industry demand.
Environmental Justice
Centers the needs of BIPOC and Indigenous communities and builds a sustainable future in which all people in Minnesota can thrive.
Reparations Learning Table
Feb. 9, 23; 12-1 pm - Online
This multi-part learning series offers a different perspective on our shared relationship to reparations and helps you relate reparations conversations to your own community. Join any of the sessions (recordings available for the ones you missed). Learn more/register.
Advocating for Change
Tuesday, Feb. 7, 7-8:30 pm - Online
Learn values-based advocacy skills so you can be ready to show up and bring your voice to a 2023 legislative agenda pushing for large-scale change. Led by Julia Nerbonne, an expert in creating effective ways to multiply our "people power!" Learn more/register.
Rally for Indigenous Rights & Climate Justice at the Capitol
Wednesday, Feb. 15, 11 am-4 pm - St. Paul
Join us in calling on legislators to take action to fulfill treaty promises and build an equitable renewable economy. MNIPL and a broad coalition of Indigenous, faith, social, and environmental justice organizations at the State Capitol need everyone's support in pushing for bills and opportunities outlined in our 2023 Indigenous Rights and Climate Justice platform. Learn more/RSVP for the rally.
Learn about key legislative opportunities
Learn more about two specific legislative opportunities to advance economic development and climate justice: