Be the Spark is a dynamic and experiential leadership development workshop series that builds interfaith community and gives participants premier organizing tools and strategic approaches for engaging their community of faith in climate change solutions.
Be the Spark participants learn how to invite the gifts and skills of those in their community to take action that inspires a sustained and creative effort in building a more just and sustainable world.
Our next sessions are TBD. Email buff@mnipl.org if you are interested in learning more.
Background
We believe that faith communities have a pivotal role to play in bringing about the cultural and political transformation that we need to address climate change. Currently, faith communities are not as strong of change agents as we need. How can we build engagement so that we have a powerful interfaith climate justice movement capable of bringing about rapid social transformation through advocating for climate, racial and economic justice?
The purpose of Be the Spark training is to offer organizations and individuals a leadership development and organizing model to activate their faith communities.
Be the Spark Alumni
Be the Spark helped me build confidence and a systems/complexity-oriented approach, both of which have been essential for my work in climate justice. The workshop also provided me with a sense of groundedness and connection with the climate movement that has supported (and will continue to support) my work over time.
~ Rachel Kerr, St Anthony Park United Church of Christ
"Be the Spark helps you connect what is deepest within you (your faith commitments, your experiences, and your dreams) to a vision of a better world, and then take concrete steps toward making that vision a reality. More than that, you will meet others who will share this work, and who will become companions on the road."
~ Rev. Susan Mullin, Director of Faith Formation, Faith United Methodist Church, United Methodist Church Global Ministries Creation Care Team
"Be The Spark has given me the confidence to work for climate justice in my faith community. I learned to be able to go out of my comfort zone so that future generations can just be comfortable. BTS provides the organizational skills to act in my faith community. It could well be the best 4 Sunday evenings that you have spent recently. Don't miss this opportunity!"
~ Lorraine Delehanty, Co Chair of the Care of Creation Team, St Thomas More Catholic Church  
"The most important part of participating in Be the Spark was the opportunity for me to connect directly with the movement - to meet other people who are actively working on Climate Change in their faith communities and beyond. Looking back, I can see that those four sessions with MNIPL played an important role in preparing me to take on the organizing work I'm doing now in the United Methodist Church and Citizens Acting For Rail Safety."  
~ Cathy Velasquez Eberhart, Prospect Park United Methodist Church
Why Organizing
Change happens through organizing.  Simply developing solutions (Energy Efficiency, Carbon Reduction Policies, Solar Energy) does not mean they will be widely adopted.  Organizing builds a container of community identity, motivation, relationship and accountability that can lead to the sustained implementation of solutions in widening circles of faith communities.
Organizing for long-term sustained action on climate change is most effectively accomplished through relationship building, organizing training, and strategic planning. The Be the Spark curriculum features some of the most effective organizing tools and strategic thinking from Marshall Ganz, the New Organizing Institute, and Training For Change and has been adapted specifically for implementation in faith communities.  We share how to support the development of leadership in individuals and core teams and assist them in planning their approach to taking sustained action for climate justice.
Our Approach: Capacity Building & On-Ramps for Action
At MNIPL we have two main bodies of work as an organization: Leadership Development and Action Opportunities. In our Leadership Development wing we offer Be the Spark leadership development and organizing trainings yearly as well as tailored Be the Spark trainings for individual faith communities, conferences, and denominational gatherings. We host youth leadership programs where we support young people in developing climate justice leadership skills. We offer core group consultation and strategic planning support to teams in faith communities as they develop robust action plans with a focus on growing their communities' involvement and growing more engaged leaders. We offer Community Climate Conversations that core teams use as a catalyst for furthering dialogue and sparking community-wide consideration of acting together on climate justice.
On the Action Opportunities side of our work we focus on relationship-based organizing through our action teams: Policy Team, Movement Builder Team, Line 3 Interfaith Response, and Storytelling/Fundraising Team. Our teams are filled with staff and core volunteers including board members. We tend to the life of the team with a focus on lifting up the gifts of all members and building authentic relationships with each other. We support the teams in developing action opportunities that not only work for solutions but build the movement. We utilize the concept of the Three-legged stool of Climate Justice Action so that our action opportunities are practical, movement building and systemic, as well as Relationship building and Spiritual.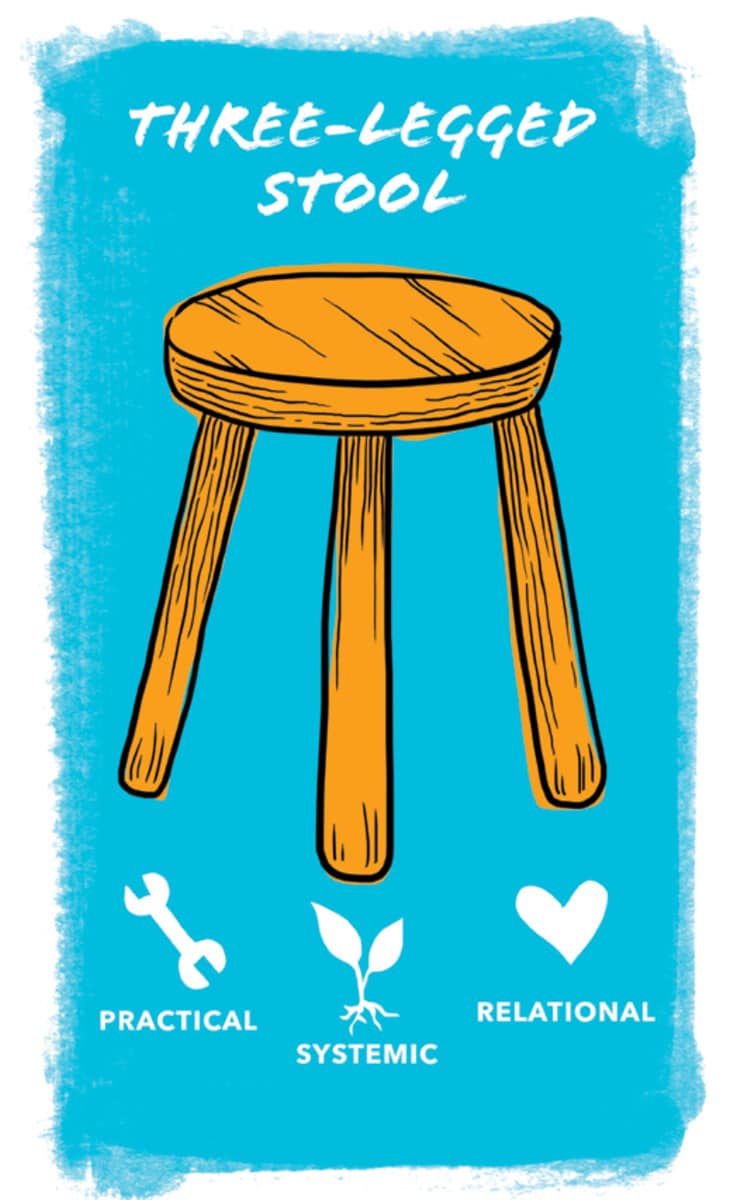 Facilitators
Julia Nerbonne - Ph.D. is the executive director of Minnesota Interfaith Power & Light (MNIPL) and teaches Environmental Ethics and Sustainability Studies at the University of Minnesota. She has been organizing volunteer leaders to be powerful change-makers for over a decade.  
Susan Mullin - As an MNIPL Senior Fellow, Susan facilitates climate conversations and Be the Spark leadership development workshops. She recruits and supports our Climate Justice Congregations to deepen their response to climate change. She preaches and teaches in congregations and resources MNIPL's team of Movement Builders. Susan is an ordained deacon in the United Methodist Church. Prior to becoming a United Methodist clergywoman, she was a Professional Geologist consulting with clients on groundwater contamination issues.
Charissa Verdoorn - As Outreach & Policy Manager, Charissa builds MNIPL's interfaith climate justice network by facilitating climate conversations and trainings, supporting Climate Justice Congregations to deepen their response to climate change, and leading the Policy and Movement Builder teams. Her goal is to organize and equip MNIPL congregations to take action for climate in practical, systemic, and relational ways that build a just and sustainable world. She is the primary liaison between MNIPL and the 100% Campaign, a coalition focused on getting Minnesota to 100% clean energy by 2050.
Buff Grace - As Solar Outreach Manager, Buff champions MNIPL's efforts to turn Minnesota 100% sun-powered. He coordinates residential solar bulk buy programs and assists churches and businesses to convert to solar power. Before coming to MNIPL, Buff served as a priest in the Episcopal church, a wilderness guide and a market gardener.