Connectedness That Sustains Well-being
August 21, 2017
| contributed by
Dear Friend,
Welcome to this edition of Firelight: Wisdom to Support & Inspire!
This edition of Firelight is curated by Bethany Divakaran who shares stories of connection. Read on for inspiration to sustain our well-being.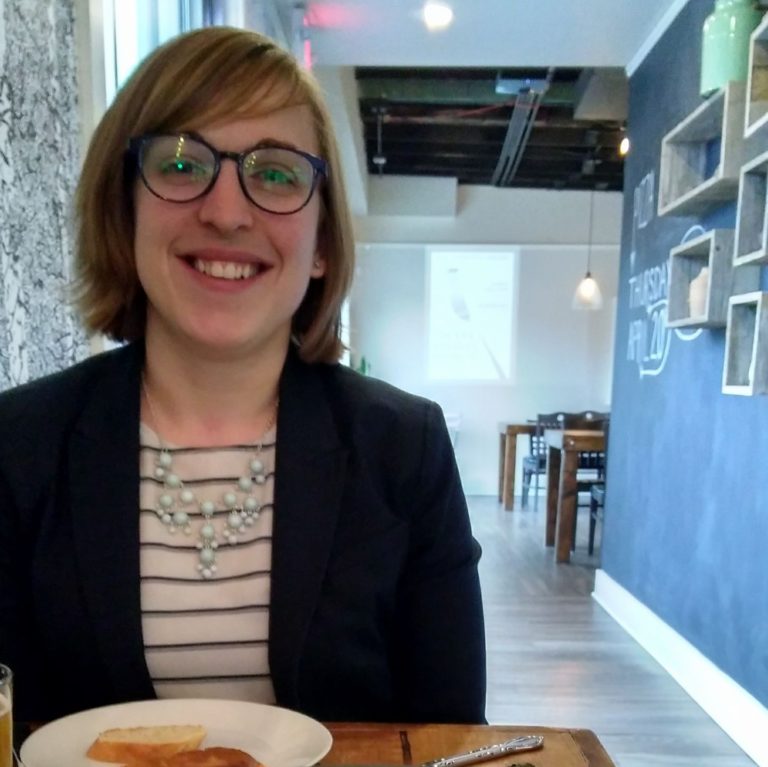 Bethany Divakaran is a dabbling writer, a cycling enthusiast, an aspiring gardener, a self-made home canner, a puppy foster-mother, and a keen lover of nature and travel. Beth is currently a graduate student at the University of Minnesota studying public health. In her search for various learning experiences, she interned with MNIPL last spring to help build the climate justice movement!
As a public health nurse, Bethany is passionate about advocating for systems and places that promote health for all communities. Her environmental activism is rooted in her view that creation care, human health, spiritual well being, and social justice are interrelated and codependent. Beth has collaborated with colleagues to publish relevant articles: "Nurses See the Big Picture: Addressing Climate Change as a Global Determinant of Health" (Creative Nursing , 2016) and "Building a Climate Movement through Relational Organizing" (Interdisciplinary Journal of Partnership Studies, 2017). She helped start Health Students for a Healthy Climate, an  interdisciplinary student group. She currently works as a nursing instructor and a research assistant at the University of Minnesota alongside her studies.
Read on for more from Bethany in this latest edition of Firelight!
Ninth Edition of Firelight:
Connectedness That Sustains Well-being
Bethany Divakaran
August 21, 2017
Poet Mary Oliver posed this striking question:
"Do you think there is anything not attached by its unbreakable cord to everything else?"
A fundamental truth about our human selves, our human relationships, and our existence within a created world is that we are all connected. Our well-being as humans is inextricably tied to the health of the ecosystems – both natural and built – of which we are a part. This edition of Firelight features images, words, and music to remind us that our wellbeing is beautifully tethered to creation and to one another. Let this truth renew our passion for tending to and fighting for collective health and wholeness.

An Image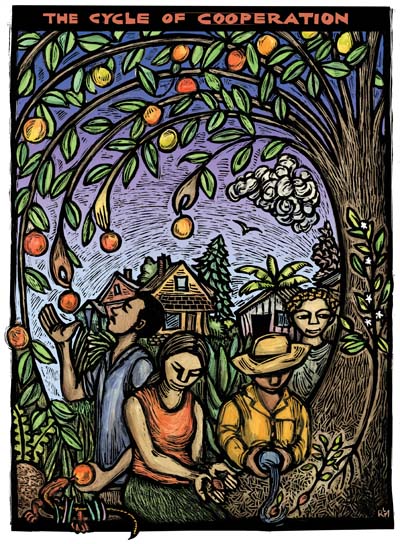 By Ricardo Levins Morales, a Puerto-Rican born, Minneapolis-based "healer and trickster organizer disguised as an artist" More about Ricardo Levins Morales, click here.
A Thoughtful Narrative:
By Mary Oliver, from her recent work "Upstream"
"We might, in our lives, have many thresholds, many houses to walk out from and view the stars, or to turn and go back to for warmth and company. But the real one – the actual house not of beams and nails but of existence itself – is all of the earth, with no door, no address separate from oceans or stars, or from pleasure or wretchedness either, or hope, or weakness, or greed.
How wonderful that the universe is beautiful in so many places and in so many ways. But also, the universe is brisk and business-like, and no doubt does not give its delicate landscapes or its thunderous displays of power, and perhaps perception, too, for our sakes or our improvement. Nevertheless, its intonations are our best tonics, if we would take them. For the universe is full of radiant suggestion."
For more about Mary Oliver, click here.

Lyrics/Song:
By Ryan O'Neal (Sleeping at Last)
"Noble Aim"
"Chances are we are the same;
Against the odds, against the grain.
We lean, like gardens toward light,
But we wait, like evening for night,
Don't we?
Chances are we are alike;
Against what better judgement writes.
We ache like children for love,
For a purpose worthy of
Such a noble aim,
Such a noble aim,
Such a noble aim as love.
Chances are we bruise the same;
A family tree desperate for rain.
A thirst only deserts know best.
A hurt so at home in our chests.
Call it stubbornness or bravery,
To let our branches continue to reach,
With such a noble aim,
With such a noble aim,
With such a noble aim as love.

A Call to Action:
From Berta Caceres, Honduran environmental activist who was murdered for her bold work in 2016:
"We must undertake the struggle in all parts of the world, wherever we may be, because we have no other spare or replacement planet. We have only this one, and we have to take action."
Thanks for joining us around the fire,
Bethany