Reflections on a new decade
Staring at a frozen lake and reflecting on the beginning of a new year, I'm keenly aware of how lucky I am. Staying at my husband's family cabin in Northern Minnesota has become a much-loved New Years tradition, starting the year playing with nieces and nephews (a photo of their snow fort below!), catching up on reading, and simply pausing to pray and breathe in the beauty of the Northwoods. It's been a wonderful start to 2020.
However, I'm also aware that at this very moment, thousands of people in Australia are ringing in a 2020 filled with destruction, terror, and death. Australia, which just ended its driest and hottest year on record, is being ravaged by fires. Thousands of people have fled their homes. Nearly 500 million animals have died since September. And the fires are only expected to worsen in the coming days.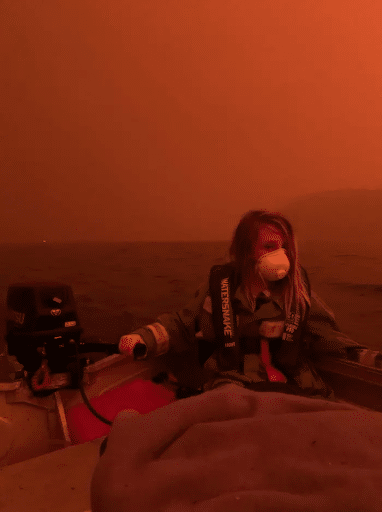 I spent New Years Eve in horror at the images and videos coming from Australia, a country in climate emergency. But the photo that stuck with me the most was of an eleven-year-old child, Finn, fleeing the fire with his family via boat (see photo to the right). He and the rest of his community were driven from their homes, spending New Years Eve sheltered on beaches and boats to escape the flames. He began the new decade in terror, surrounded by apocalyptic skies and unbreathable air, not knowing if he even had a home to return to. 
To me, this photo is so heartbreaking because it shows the people who suffer the most from the climate crisis: the innocent. From children to people of color to frontline communities threatened by pipelines to people in poverty, the vulnerable suffer first and worst from climate disruption. This is wrong. As a person of faith, I believe our call as humans is to love and serve each other, recognizing we are all part of the same family.
When I think of the photo of Finn, I imagine my nieces and nephews in his place, and I feel grief and anger. However, I also feel resolve. I refuse to believe our future is hopeless. I know that there is a clear path forward to stop and reverse global warming. Science tells us that we must rapidly get our global economy to zero emissions; we know this is possible, and that clean energy is cheaper than fossil fuels. Unfortunately, we can't make these changes in time as individuals–only our lawmakers can do that. And how do we get people in power to prioritize climate? We join together and demand it.
That's why in 2020, I believe we have a rare opportunity to change the course of history. The stakes are high, but if we work together to move our candidates and leaders, we can do incredible things. And as a person of faith, I believe that we will rise to meet this moment. And that's why I'm so excited to invite you to join us in this critical year.
MNIPL is launching Prioritize Climate 2020, a roadmap to help you and your faith community make climate a top priority for voters, candidates, and lawmakers this year. By the end of 2020, we need an overwhelming movement of people of faith who prioritize climate – and act to make sure this is the start of a decade of sweeping climate action! We invite you to four key opportunities this year to build collective power as an interfaith climate movement, and I hope you'll join us:
Attend your precinct caucus on February 25

to make sure climate is a top priority for your party, whichever you belong to. Whether it's your first time at your caucus or you've been before, we have tools to help you invite and train members of your faith community. Thousands of Minnesotans caucusing for climate will send a powerful statement that climate is a top priority in 2020! 

Strike for climate on April 22

– the 50th anniversary of the first Earth Day, when 20 million Americans (10% of the population) took to the streets to demand environmental action and they won. We need millions in the streets again this Earth Day to call for climate action! Erica Chenoweth's research found that when just

3.5% of a population

joins in nonviolent protests, they always succeed in creating structural change. 

Vote for climate in the 2020 election!

In addition to doing your own research and voting for candidates who are climate champions, MNIPL will be offering resources to get out the vote for climate in the 2020 election. 

Additional Action: Don't stop there!

Who are the decision-makers in your unique context who need to prioritize climate? Work with MNIPL to create a plan to influence your key decision-makers – from asking your State Senator to support 100% clean energy to urging your city council to create a climate action plan!
To learn more about this, you can check out this recording of our Prioritize Climate 2020 kickoff webinar, from Tuesday, January 7. This webinar shares in-depth how you and your faith community can join in these four key mobilizations, and includes a commitment form to take the next step for our first action: Caucus for Climate. You can also catch up on the basics with this Prioritize Climate 2020 one-pager.
As I spend my last day at the cabin, dreaming about what this next decade holds for our fragile, lovely planet, I invite you to imagine with me. What if 2020 is the beginning of the end of an era of extraction, destruction and death? What if we are beginning, instead, an era of healing, of righting wrongs done to land and people? And what decisions can you make this year to build the movement of people demanding a just future for our children?
In closing, I want to share a quote from Margaret Klein Salamon's essay, Leading the Public into Emergency Mode (which feels especially poignant while looking at photos from Australia): "We are now in a time of tremendous consequence. Incredibly, the choices we make now and in the near future matter a great deal to the future of humanity and all life on earth. It's time to leave gradualism, business as usual, and normal mode behind until we have solved the climate problem. The time has come to enter emergency mode, both as a society and as individuals. The stakes could not be higher."
It is my hope and prayer that in this moment of promise, the beginning of a brand new decade, you make the choice to prioritize climate as a person of faith. I can't wait to see what we accomplish together this year.
– Charissa