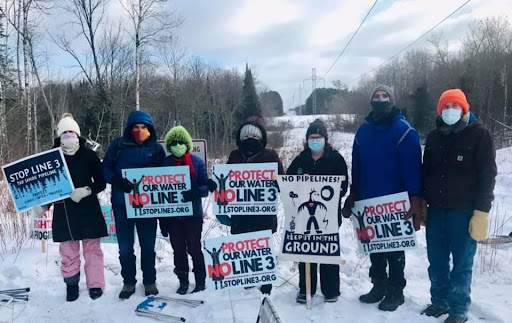 Advocating for treaty rights and clean water
Submitted by Edina Community Lutheran Church in Minneapolis.
Advocating for treaty rights and clean water by fighting the Line 3 pipeline became a point of pride for the ECLC community. ECLC made a commitment to take a strong stand against Line 3, which led to a strong presence at public events. ECLC's bright blue "The Church Has Left the Building" t-shirts were seen at many Stop Line 3 events throughout 2021, including a protest at Chase Bank to defund fossil fuels; two visits to the Line 3 resistance camp in Palisade, MN in February and April; and several marches in the Twin Cities.
In early January, the EcoFaith Team developed a Line 3 Pipeline Statement of Solidarity, based on a core value of ECLC, which is to care for God's creation. As a Climate Justice Congregation, we are committed to being stewards of the earth. This commitment prompted us to create a Statement of Solidarity on Line 3 in support of our Indigenous relatives in protesting and fighting Enbridge's Line 3 pipeline and the violation of treaty rights. The statement reads, in part, "We have been invited to stand in solidarity with them (the Anishinaabe Water Protectors) – to share our love and shared belief in an interdependent and interconnected world. Water is life. In response to our Indigenous relatives' invitation, Edina Community Lutheran Church stands in solidarity with our Indigenous siblings in protecting the water, the land, their way of life, and our treaties and opposes the construction of the Line 3 pipeline." This statement was then adapted into a resolution presented and passed at the Assembly of the 2021 Minneapolis Area Synod of the ELCA.
In the summer of 2021, ECLC supported the statewide Treaty People Walk for Water by holding a water-themed worship service, after which congregants walked to Minnehaha Creek to pray for the Mississippi River and the Water Walkers. Spending time at the creek as a church community was really impactful, and they hope to continue this practice, as ECLC is located next to Minnehaha Creek.
Do you have a story to share?
Your community's climate actions are inspiring! Share your story with others ...