MNCIFA Gets Hearings in the Senate
After receiving its initial hearing in the MN House on March 7, the bill that would establish the MN Climate Innovation Finance Authority (MNCIFA) (SF 2301; authored by Senator Tou Xiong) was heard in the Senate Energy Committee on Monday, March 13.
The bill would appropriate $45 million and assist communities, businesses, and individuals across the state in obtaining the technical assistance and upfront capital they need to employ green technologies, from energy to agriculture. Read more about the bill here.
MNIPL Executive Director Julia Nerbonne testified at the hearing. "Since 2014, [MNIPL has] been working to make sure that as MN transitions to a carbon-free energy system, no one is left behind. As part of our work to engage the public in climate justice solutions, we work to help congregations and small businesses develop solar. Unfortunately, most of the 24 projects in our portfolio are currently tabled because they are too small to attract large financiers. We look to this finance authority to help us solve this problem, and get to yes for thousands of projects across the state."
National expert Henry Litman from the Coalition for Green Capital also testified, saying "This is a gold standard bill with robust consumer protection and accountability standards. It is well designed to mobilize public-private investment in the state."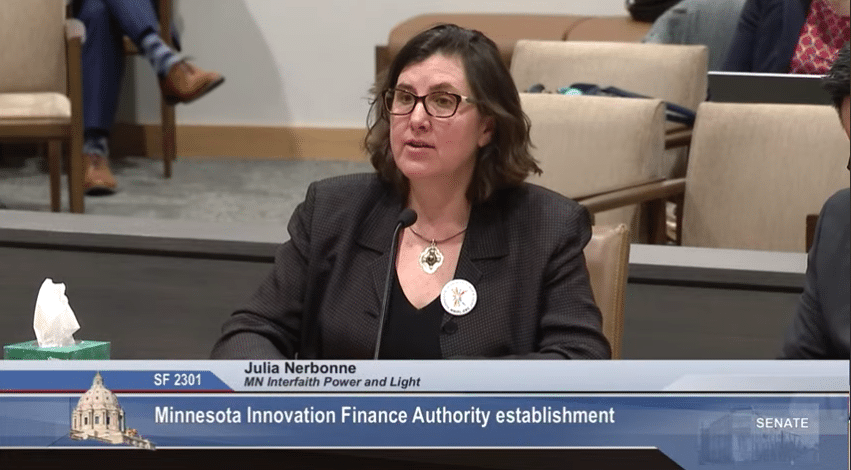 The coalition supporting this bill gave legislators a chance to meet with Litman and the MNCIFA bill authors at a breakfast at the Minnesota State Capitol before the hearing. Over a dozen legislators, including the House and Senate Climate and Energy Chairs, attended.
Watch a recording of the Committee meeting when MNCIFA was introduced:
The bill was amended with the author's language and referred out of the Senate Energy Committee. It heads next to the Senate State and Local Government committee. 
---
Support MNCIFA this Tuesday!
The companion bill (HF 2336; authored by Representative Emma Greenman) will be heard in the Climate and Energy Finance and Policy hearing on Tuesday, March 21, at 3 pm in Room 200 of the State Office Building. Please attend to show your support or submit written testimony to [email protected] by 1 pm on Monday, March 20.