MNIPL's Policy Team seeks to empower and mobilize people of faith to advocate for policy initiatives addressing the climate crisis and creating a 100% renewable, equitable, and sustainable future for all.
Interested in joining the team? Email [email protected]. We meet every other Monday from 6:30-8 pm, at our MNIPL office: 4407 E Lake St, Minneapolis. You can also call in with this Zoom link.
Our policy team helps to co-develop Minnesota Interfaith Power and Light's strategy on climate, tracking and acting upon specific policy initiatives. All are welcome to join no matter your level of experience!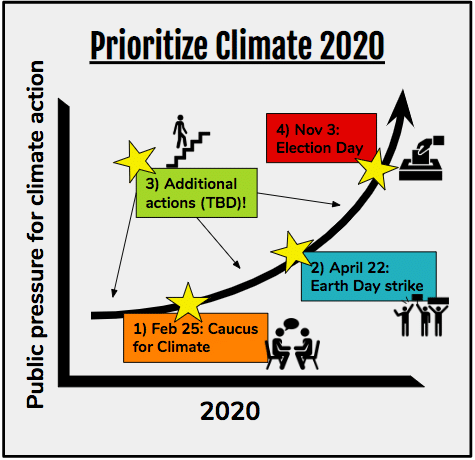 Take Action: Prioritize Climate 2020
In this critical election year, we need thousands of Minnesotans of faith to mobilize together, building momentum to ensure that climate is a top priority for decision-makers, candidates, and voters in 2020 – ensuring a just and healthy planet for generations to come.
To achieve this vision, MNIPL is launching our Climate Justice Voter Campaign. For real climate action to occur, we need Minnesotans to vote with climate justice in mind. Join us in our effort to mobilize voters across to the state to vote.
1) Pledge to vote for climate justice in the 2020 election! We believe climate change and how it will impact our future must be at the top of every voter's mind. MNIPL will be offering resources and opportunities to get out the vote for climate in the 2020 election. Pledge to vote here.
2) Attend a Climate Justice Voter training. Learn how to connect with people in your own network about the importance of voting and how they can be climate champions. During these 90 minutes trainings, you will learn about our current campaign and how you can connect with people about the importance of voting using an app called Empower. Sign up for a training here.
Current Campaigns
100% Campaign
MNIPL is actively supporting multiple bills currently under consideration in the legislature that call for MN to transition to 100% carbon-free electricity by 2050. Show your support for these efforts by signing onto our petition that calls for 100% clean energy. You can also download a printable copy.
MNIPL is proud to be among dozens of community organizations, unions, and advocacy groups pushing for 100% clean energy in Minnesota. Learn more about the coalition at https://100percentmn.org.
Clean Cars MN
In 2019, Governor Tim Walz proposed new rules for auto dealers that would reign in auto emissions for new vehicles and expand access to electric vehicles. This proposal not only reduces emissions but also expands consumer choice. MNIPL and our members were actively engaged in the first round of public hearings in the fall of 2019, and plan to be once again when the second round of hearings occur in the spring of 2020.
Clean Energy Job Stimulus
In order to help support good-paying jobs and a transition to a clean energy economy, we need both state and federal elected officials to invest in a clean energy future. Investments in clean energy, energy efficiency, and clean transportation can help put people back to work and contribute to a healthier planet.
Send a message to your elected officials encouraging them to support a clean energy job stimulus.