MNIPL is an interfaith community co-creating a just and sustainable world. We work in partnership with faith communities to build transformative power and bring the lights of people's unique gifts to addressing the climate crisis.
At MNIPL we work to build the interfaith climate movement in Minnesota by empowering faith communities across the state to take action that is authentic, effective, and energizing in their context.
We do this in two ways: leadership development programs and action opportunities that provide tangible ways to make an impact. We believe that it's not enough to offer people opportunities to take action on the issues they care about. Instead, we believe leadership development and training will empower individuals to build a movement capable of creating a just and livable climate for the human and more than human world.
Our Approach
We take a relational approach, that honors doing the hard work of building relationships, trust, and capacity, what we call "moving slow to move fast." Moving slow means coming together as a community, creating spaces to share our grief, our fear, our hope for possibility, and co-create ways to be a part of the solution. Which in turn allows us to move fast, which is to move forward powerfully with solutions that are balanced and attuned to the full scope of this problem.
"The place God calls you to is the place where your deep gladness and the world's deep hunger meet." Frederick Buechner
How do we respond to the climate crisis in ways that are both effective and life-giving? We have found that effective action requires a three-part approach. As with a three legged stool, all three approaches are necessary! These include systemic change and movement building, practical action, and spiritual / relational connection.
The New Story
MNIPL seeks to tell and live a new story of partnership, that subverts the traditional story of hierarchy and domination. We believe this new story is essential to creating the paradigm necessary to adapt to the climate crisis. This belief is at the core of our theory of change; change happens when we connect our own deep gladness with the world's deep needs, and when we do so in community with others, we feel powerful and connected, a part of work that is life giving and in alignment with our deepest held values.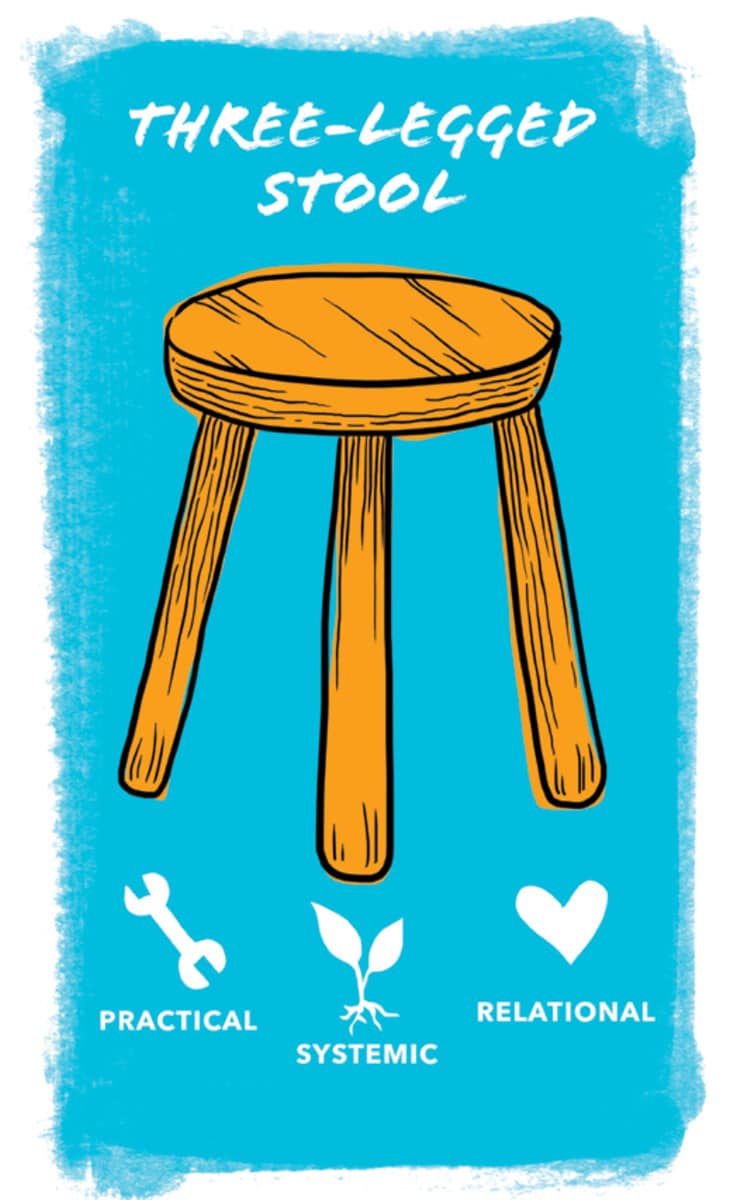 Movement Builder Program
For years, the organizing community has used the Snowflake Model. This model is how social movements have increased the scope and power of their work by engaging widening networks of people and communities to deepen their commitment.
In 2017 MNIPL launched our Movement Builder Program: are bringing 150 faith communities into our own snowflake model. Because that is what this moment calls for: to scale up our organizing to meet the challenges ahead.
Become a Community Connector. Community Connectors will serve as a liaison between MNIPL and their congregation in order to support and inspire climate action in their community. As a Community Connector you will:
Receive monthly updates and action opportunities from MNIPL and communicate those opportunities to your community.

Have access to a network of other faith communities and resources as you pursue climate justice initiatives

Utilize MNIPL staff support to engage your community

Share with MNIPL what is energizing your community so that we can help connect you with others and learn from your experiences
Community Connectors have been essential to building the interfaith climate movement we have today. We're writing the next chapter of our movement, together. Become a Community Connector, or recommend someone in your faith community!
Our Impact
MNIPL trains hundreds of adult and youth leaders to become organizers, and connect them into regional climate and energy campaigns. We provide coaching and organizing opportunities for more than a dozen regional or denominational teams. We have succeeded in promoting climate justice by recruiting hundreds of faith actors to march against tar sands oil, generating thousands of signatures on petitions calling for energy equity, recruiting hundreds of congregational representatives to show up to lobby at the state capitol or in Public Utility Commission Hearings, and organizing youth to speak at congregations around the state.