Adventures at All in the Circle Leadership Camp
We are back from our horse farm and St. Croix canoeing adventure, with friendships, stories, and lots of mosquito bites to show for it! What a beautiful adventure we had. Please read on for a summary reflection and pictures by Erin and Jeremy!
The purpose of the All in the Circle: Leadership and Adventure Camp is to provide an inspiring deep dive into co-creating a culture of kindness – particularly through leadership skills development in a nature-based setting. With that intention, we gathered last Monday and spent the first two days of camp building a strong, supportive group container – as we played get-to-know-you games, created a group mission statement (more to come on that later), and worked with wise and sensitive horses to clarify our unique leadership styles.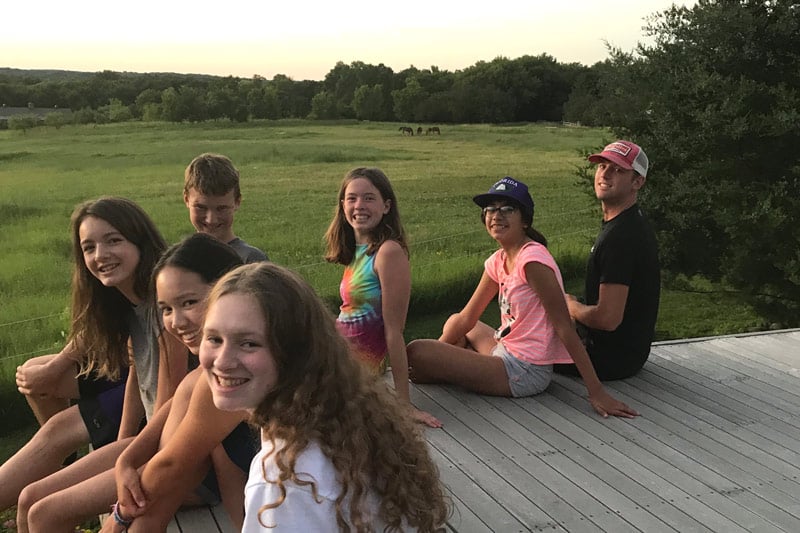 After creating an agreement of how we wanted to treat each other (i.e. what kindness, respect and inclusion look like), we set about creating a statement of mission and intention for our group adventure. We split into twos and wrote a few sentences about what we wanted as our group intention. Then, each pair joined with another pair and combined their mission statements/intentions. Finally, the entire group came together and combined to complete a full intention statement that combined everyone's intentions. See the picture below!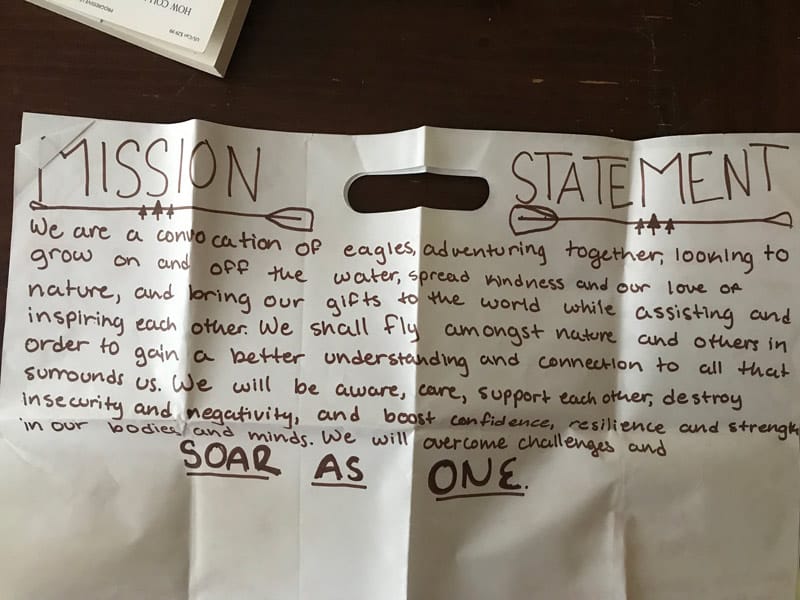 Mission Statement: "We are a convocation of eagles, adventuring together, looking to grow on and off the water, spread kindness and our love of nature, and bring our gifts to the world while assisting and inspiring each other. We shall fly amongst nature and others in order to gain a better understanding and connection to all that surrounds us. We will be aware, care, and support each other, destroy insecurity and negativity, and boost confidence, resilience, and strength in our bodies and minds. We will overcome challenges and SOAR AS ONE."
At our base camp at the farm, we worked together in groups of 2 to cook, clean, and lead games and activities, as a way of practicing leadership skills. With the horses, we learned how to lead by using confidence, decisiveness, and congruence one on one. This helped us reflect and focus on ourselves and how we lead others.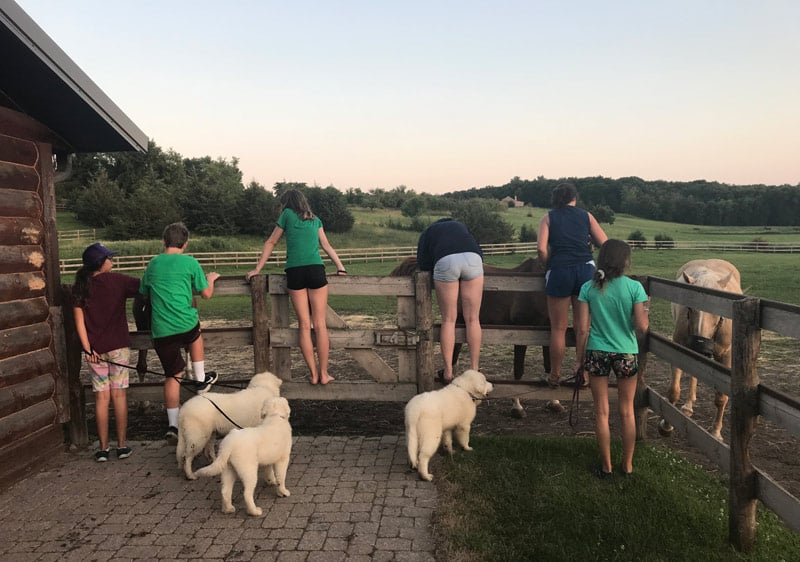 On Tuesday evening we organized and packed for the canoe trip, and everything was set for Wednesday morning according to schedule.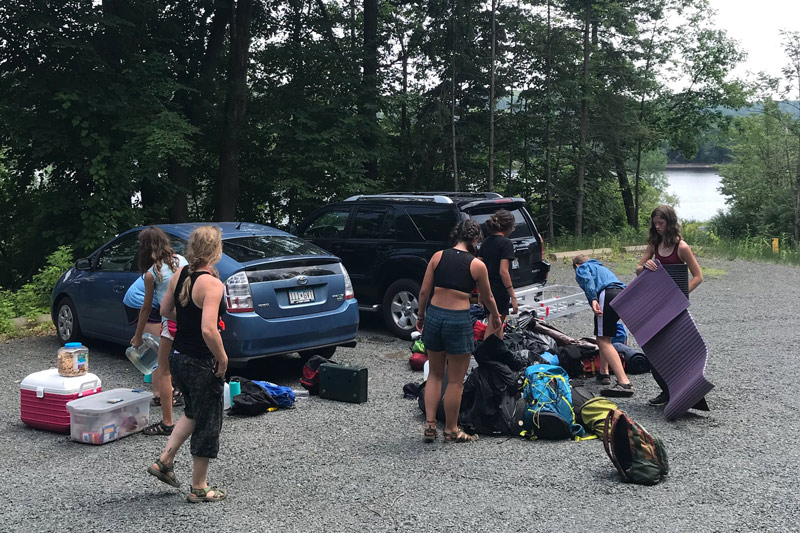 After rising early and driving to Taylors Falls Dam, we rented canoes and had our cars parked 40 miles downstream of our put in site. We loaded the canoes with gear and tried to pair the campers with appropriate partners for the paddling. As we launched the canoes, paddling together as a "Convocation of Eagles" as written in our mission statement, we all noticed a bald eagle accompanying us. The eagle represented a leader, always staying slightly ahead of us as we paddled. We all felt a sense of comfort and purpose – our intended mission statement seemed to come to fruition very quickly.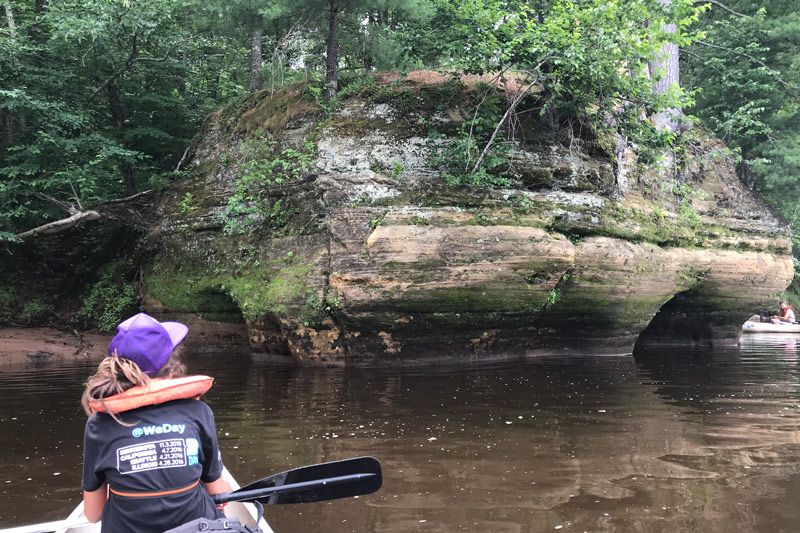 As in a "hero's journey", the river posed many challenges. We were paddling into a headwind, which made the goal of 20 miles the first day a test of strength, endurance, leadership and resiliency. The campers in the face of these challenges were not deterred in the slightest, as their goals and intentions were playing out as they expected. They were kind to each other and worked together if one canoe got behind.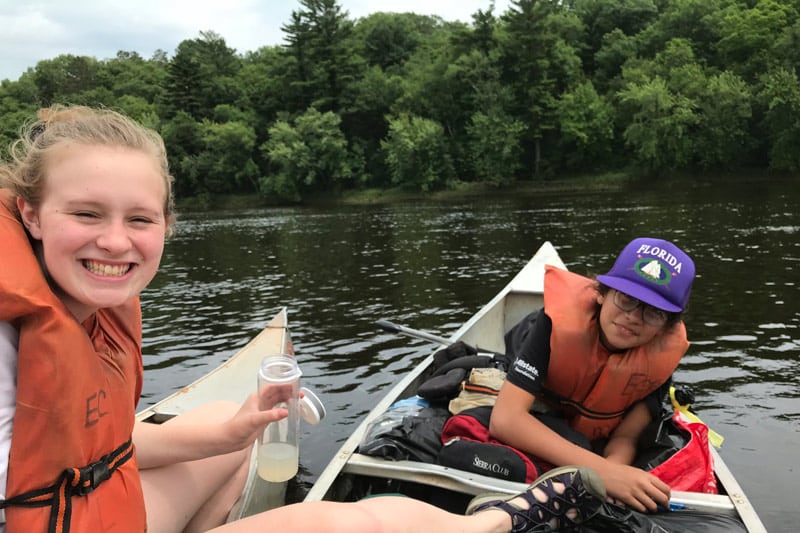 Little did we all know that the headwind that came up 10 miles into our paddle was only a small challenge, compared to what lay ahead! After a strenuous 20 mile paddle, the sun started getting lower as we arrived at our riverside campsite. The mosquitoes, due to a flood and then a receding of the river, were the worst the locals had ever experienced. The moment we stepped foot on the shore, we were blanketed in mosquitoes! They were so bad that it was immediately clear being on shore for a fire or eating (or even going to the bathroom!) was impossible.
Campers got back in their canoes after hurriedly setting up their tents for later. Jeremy and Erin soon brought peanut butter and snack fixings out to join them on the rocks offshore. We had a beautiful check-in circle where everyone shared their highs and lows from the day, problem-solved how we could move down the river as one the following day, and renewed their commitment to trying to make it the next 20 miles – with unanimous agreement that we would spend the following night in a hotel! We were amazed by the positive attitudes, resilience, humor and strength expressed by each individual and by the spirit of the group!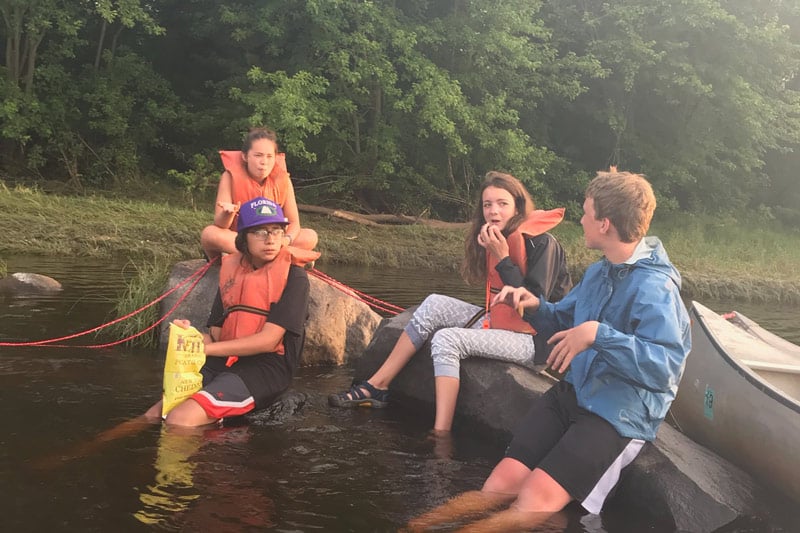 As the sun set, we rowed ashore, dove into our tents, and chatted until it grew dark. At about 3:00 a.m., a steady set of strong thunderstorms started rolling through with heavy rain, flashing lightning, and winds. The next morning everyone bravely exited their tents, and as quickly as we could, packed up and got on the river once more. The campers worked as a team to make this happen as fast as possible as the mosquitoes once again blanketed us immediately. We set off in the canoes with another 20 miles to cover.
Soon, however, it was clear that the storms were taking longer than expected to move out. We were consulting via cell phone with Gwin about the radar, and based on the available information, we paddled as quickly as possible to a safer area. After a few hours of "barging up", eating, chatting, and playing games to wait out the storm ahead, it became evident that the storm was increasing and expanding and that we needed to get to safety. We hurriedly beached the canoes and got into emergency lightning drill positions in the mud, under the trees. The storm was severe and produced lightning every few seconds. Hail commenced, and wind hit us hard. Our boats took on lots of water, promising even more challenging paddling ahead of us! Jeremy kept talking to everyone as the storm made its way marching like 'thunder beings" by us. Everyone stayed in good spirits as the storm still persisted for 20 minutes. Tracking the lightning and thunder, it was evident the storm was traveling south and would soon pass. As it got farther south, we circled up and did our camp cheer and vigorous jumping jacks to bring back warmth to our bodies. We then saw lighter skies to the north and knew it was safe to get on the river again (none too soon as the rain cleared the mosquitos immediately descended again!)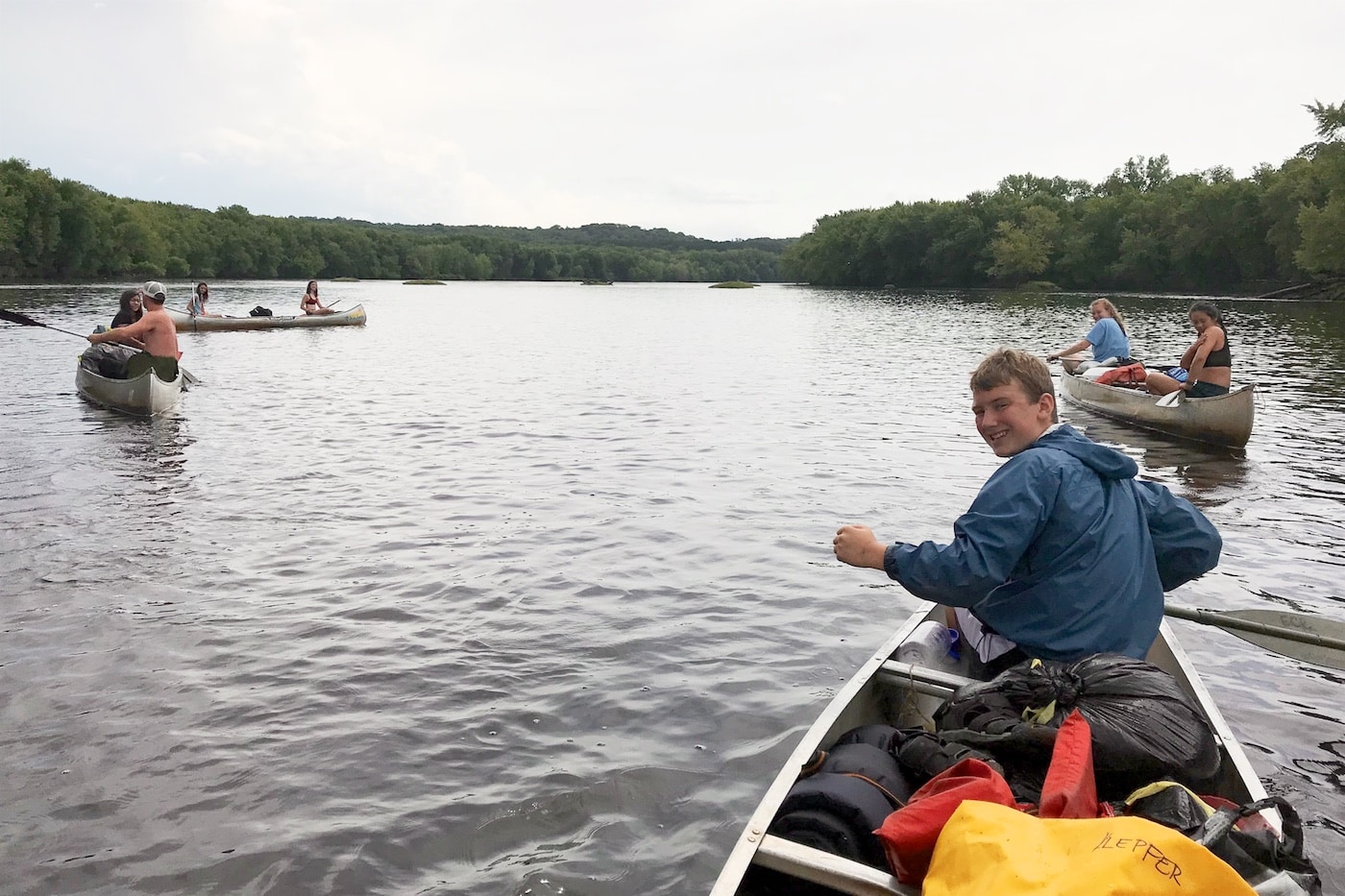 As we moved down the river, the sun came out and we paddled for our take-out point 10 miles down the river, rather than 20 miles. After making it safely to our hotel rooms, eating, showering, and resting, we had a beautiful, insightful debrief of our experience. In this circle, we realized that our intention statement had come to life through the challenges nature presented us – just not in the way we had originally planned (how often is that the case with life?!). People expressed that this was a profound moment as we named the specific ways our individual and collective intentions had come to pass. So much so, that even a real eagle led us as a convocation of eagles for the entire trip. Our intentions of being challenged to strengthen our confidence and resilience as a group could not have been more fulfilled. As in the model of the "hero's journey" as taught by Joseph Campbell, the group had created a vision, was guided by leaders and the eagle, faced challenges, overcame them, discovered strengths, processed the learnings, celebrated, and returned to their daily lives.
That night we had nourishing pizza, chocolate, and a good night's sleep. In the morning we brought our attention to gratitude and reflections for each other in our appreciation circle. After packing up (once more!) we set out for home with a stop for celebratory blizzards on the way! We were were reluctant to leave each other and have continued to stay in touch by sharing pictures and texts about the experience.
All of the campers agreed that they would like to continue their group with Minnesota Interfaith Power & Light through participating in the Youth Leadership Team – to learn about how to be organizers and leaders in the climate justice movement. They will go to rallies together, speak at workshops, and visit legislators. This is their response to moving back into the world with their new learnings! Stay tuned for late summer/early fall dates for that!
We are so excited to continue our adventures, learning and friendship together!!
Erin and Jeremy